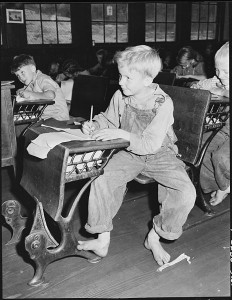 There was a game show (a competition on television for money) a few years ago called "Are You Smarter Than a 5th Grader?" (a fifth grader is a student in grade five, about eleven years old). In the game, adults would try to answer questions taken from the lessons of elementary school (grades one through six) students. If you got an answer wrong, you had to say, "I am not smarter than a 5th grader!"
The game became so popular that other countries (more than 50!) created similar shows, some of which are still on the air (being shown on television).
Today's post is not about questions for fifth graders, but for those who are about to go to college.
In the U.S., students who want to attend (go to; be a student at) a university usually have to write a short essay about some topic in order to demonstrate that they know how to write well in English.  I thought it would be fun to share some of the topics high school seniors (twelfth graders) have to answer when applying to many U.S. colleges.
The following writing prompts (topics for writing an essay, usually for an exam or application) are among the most popular used by American colleges. Read each question and think about what your answer might be:
-Some students have a background or story that is so central (important) to their identity (who they see themselves as) that they believe their application would be incomplete (not finished) without it. If this sounds like (appears to be) you, then please share (tell us) your story.
-Recount (tell us the story of) an incident (event; situation) or time when you experienced failure. How did it affect you, and what lessons did you learn?
-Reflect (think about) a time when you challenged a belief or idea. What prompted (caused) you to act (do it)? Would you make that same decision again?
-Describe a place or environment where you are perfectly (completely) content (happy; satisfied). What do you do or experience there, and why is it meaningful (important; significant) to you?
-Discuss an accomplishment (something you've done) or event, formal or informal, that marked (indicated) your transition (change) from childhood (being a child) to adulthood (being an adult) within your culture, community, or family.
See if you can answer one of these questions (in English!), then tell us about how you answered in the comments below.
~Jeff
Photo credit: Student in Kentucky, 1946, Wikipedia PD