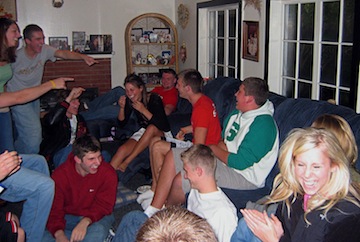 Okay, I don't really hate parties. Let's say, rather (introducing a different idea), that I have a love-hate relationship with them. You know how that works, don't you? When you have a love-hate relationship with someone or something, sometimes you really like or love them, and sometimes you don't, you dislike them or even hate them.
That's the way I am with parties.
Now, before you think I'm just not a people person (someone who likes people), let me tell you about me and people. I'm usually very sociable; I enjoy meeting and being with other people. Just ask my wife. When we visited the state of Maine on our vacation last fall, she spent a lot of time wandering (walking slowly without a purpose) down the street alone while I stopped to talk to an artist about his unusual primitive (simple) style. To a gallery owner about the local artist whose paintings look a lot like Joseph M.W. Turner's (a British Impressionist painter). To a shop owner about the cool, creative way she displayed (showed) the clothes she was selling. And to a local photographer about photographing Maine's Atlantic coast (where the land meets the ocean). My family thinks I can, and often do, talk to anyone.
It's not that I'm afraid of crowds (larger groups of people), either. All my life I've taught, performed, or spoken to groups of people – sometimes a few, often several hundred, once at least several thousand. No problem.
So what is it about me and parties?
I found the answer to this question a long time ago. But before I tell you what I learned, I want you to notice two things about what I wrote above: both situations I described involve me and one other person or me in front of many people. Parties are different. At a party it's me among many people, moving around, making small talk (casual conversation) with different people, and so on. And that's where the problem lies (exists).
Years ago, one of my friends told me about David Keirsey and his book Please Understand Me. Keirsey is a highly respected psychologist. His personality inventory (a test to help you understand the kind of person you are), called the Keirsey Temperament Sorter, has helped many thousands of people better understand themselves.
I found the answer to the question about me and parties in Keirsey's chapter about extroverts and introverts. According to Keirsey, people who are extroverts need to be sociable. People turn them on, charge their batteries (energize them), and they're often lonely when they're not around people, even for a short time.
Introverts – yes, that's me – may leave the party early, according to Keirsey, "not because they're party poopers (people who spoil other people's fun), but because they're pooped (made tired) by the party." Introverts may actually feel lonely when they're in a crowd. Working or reading alone or being with a few select (carefully chosen) people is what energizes the introvert. And that should give you a clue where to find me at a party – in a quiet corner talking at length (for a long time) with one or two select people.
Research tells us that we're all part extrovert and part introvert but that we're more comfortable with one than the other. About 75% of Americans describe themselves as extroverts, 25% as introverts. Western culture, as you may know, seems to favor extroverts – people who are outgoing (like to meet and talk to other people) and sociable.
Which are you? And where will I find you at the party?
~ Warren Ediger – English tutor/coach and creator of Successful English, where you'll find clear explanations and practical suggestions for better English.
Photo courtesy of Wikipedia Commons.