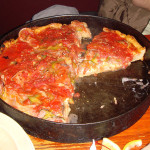 I've been trying to shed a few pounds (lose a little weight) after overindulging (eating too much) over the holidays in December. Maybe that's why my mind has been turning to (focusing on) food so much lately.
When people think of "American food," they often think of hamburgers and hot dogs. But in a country where nearly everyone is from somewhere else — whether it is the current generation or many generations ago — defining American food is difficult.
No one would say that pizza is an American food. But since the first pizza restaurant opened in New York City's "Little Italy" neighborhood in 1905, pizza has developed in this country in a way that may not be recognizable (easy to identify) as a relative (belonging to the same family) to the original from Italy.
A few distinct (separate) types of pizza have developed here in the U.S. The two most well known are New York-style pizza and Chicago-style pizza.
New York-style pizza is a pizza that is large and has a thin crust (bottom and sides of the pizza made of a type of bread) that you can easily fold (bend) to eat it. People say that the difference between New York-style pizza and other American pizzas is the crust, which is hand-tossed (thrown in the air to shape) and is made with bread flour with high levels of gluten (a substance in wheat that makes bread stretchy or elastic).  Some people claim (say; believe) that the crust has a special flavor because the water in New York City has a lot of minerals (materials, like iron, that your body needs) that gives the pizza that special texture (feel and look) and taste.  Trying to sell New York-style pizza in other cities, some restaurants have even tried to transport New York City water across the country to be authentic (real; like the original).
Another popular type of pizza is the Chicago-style pizza, also called deep-dish pizza.  Deep-dish pizza has a crust like any pizza, but the crust is very thick and the sides come up two or three inches, and is usually higher than the level of the ingredients. The pizza is baked (cooked in the oven) in a round, steel (hard metal) pan with tall sides (see photo).  Since Chicago-style pizza is so thick, it looks almost more like a pie, than a traditional pizza.  This style of pizza is said (is believed) to have been invented (created) in Chicago in 1943 by the owner of a Chicago pizza restaurant.
These aren't the only two types of American-style pizza, but they're the most popular types.  I've had both kinds of pizza, in New York and in Chicago. So which do I prefer? I like them both. But then, I've had pizza in Italy, too, and I like that, too.  I guess I'm just a pizza fool (something who likes pizza a lot)!
~ Lucy
Photo Credit: 2007-1019-PizzeriaUno.jpg from Wikipedia