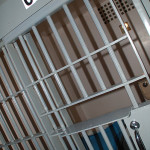 In the old days, we learned about new restaurants, stores, and other businesses through word of mouth (one person telling another). We still do that these days, but many people have taken that online (on the Internet) to websites that allow user reviews (comments written by users or customers). One user review website that has become very popular in recent years is Yelp.com.
The word yelp means a short, sharp cry that comes out of your mouth when something suddenly gives you pain or surprises you. I associate yelping more with animals, like dogs, than with people, but if someone stepped on my foot, I would certainly yelp.
The website Yelp started in 2004 and allows people to post user reviews about restaurants, stores, services, and even prisons.  What?!  Prisons??  Yes, even U.S. prisons are listed on Yelp's website and anyone can post a review of these "graybar hotels." I don't think anything could induce me (attract and convince me) to check in to a graybar hotel, but it's interesting to read what former (in the past) or current inmates (prisoners) and those who visit inmates think of the prisons.
More commonly, people use Yelp to read about customers' experiences before going to a new place or using a new service, and it's a place where people can write laudatory (praising; complimentary) reviews or gripe (complain) about their experience. It's so popular these days that it's not uncommon to hear people use the verb "to yelp" to mean to read reviews on Yelp (or even other websites) similar to the way people use "to google" to mean to search the Internet, no matter what search engine they use.
In the past, I've used Yelp to get recommendations on all kinds of places and services: restaurants, car repair, plumbing repair, movers, hair salons, and many more.
Is there a popular user review website where you live? Do you use it, and if so, for what types of businesses or services?
~ Lucy
Photo Credit: Cele.jpg from Wikipedia