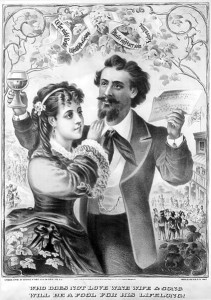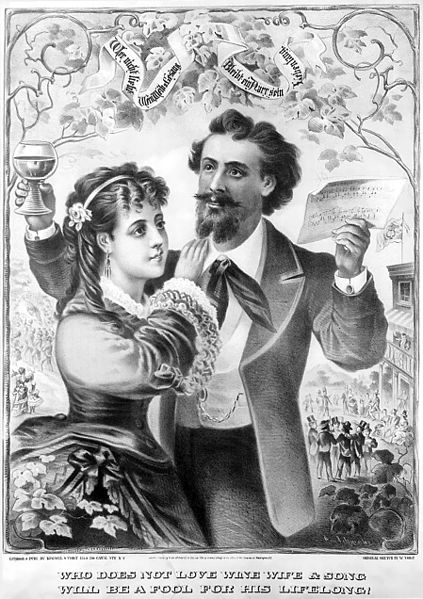 William Butler Yeats was one of Ireland's most famous poets in the late 19th and early 20th centuries. I came across (discovered without trying to find it) a short poem of his that made me smile, and I hope will do the same for you.
It's called "A Drinking Song," but unlike most drinking songs, it is not meant to be sung while you are drinking beer with your buddies (friends) at the bar or pub. Instead, the "drinking" refers to the first image of the poem.
A Drinking Song
By W.B. Yeats
Wine comes in at the mouth
And love comes in at the eye;
That's all we shall know for truth
Before we grow old and die.
I lift the glass to my mouth,
I look at you, and I sigh.
The poem begins noting (remarking; observing) that wine comes in at the mouth. To come in here simply means to enter. Wine enters your body through your mouth.
Yeats then compares this to how love "comes in" to you: "And love comes in at the eye." We typically fall in love (at least many do) because we like the way someone looks – his or her beauty. And since we see with our eyes, love "enters" us through the eyes the same way wine "comes in" at the mouth.
And, of course, both a good glass of wine and the sight of a beautiful woman were, for Yeats, pleasurable things.
Then Yeats tells us that this simple truth, this simple fact, is "all we shall (will) know for truth (for sure; with certainty)" before we "grow old (get older) and die."
Yeats ends by lifting (raising; bring up) his glass of wine to his mouth, and looking at "you," the person to whom he has written this poem. "I look at you," Yeats says, and "I sigh." To sigh means to breathe out without saying anything, but making a small noise when you do. We usually sigh when we are sad or disappointed about something.
But it is also possible that Yeats's sigh is one of relief, of being happy that something he feared or hoped might not be true really is true, and so now he is content (satisfied; at peace).
Which is Yeats – sad or happy at the sight of his love? If the woman in the poem loves him back, surely (of course) he will be happy.
~Jeff
P.S. The 19th century illustration (drawing) seen above has the expression, "[He] who does not love wine, woman, and song/Will be a fool (idiot; stupid) for his lifelong (for his entire life)."
Photo credit: Kimmel and Voigt, 1873, PD