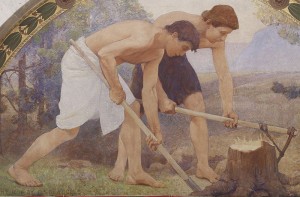 You probably know someone who is a workaholic, a person who works very hard and works long hours compulsively (without being able to stop). When they're not working, they may feel guilty, believing that they should be working and, if they don't, they'll fall behind (not have completed as much work as he or she should have). They may also feel restless, not being able to relax and always wanting to be doing something. These classic (traditional) workaholics are motivated by (driven by; want to do this because) external (outside of your body or mind) rewards, such as more money and admiration from others, or because they are afraid of bad consequences if they don't work so much, such as losing their job or being thought of by others as lazy or incompetent (not able and knowledgeable). As you might have guessed, classic workaholics also suffer from health problems because of the stress (anxiety; feelings of nervousness) they're under (they are experiencing).
But do you also know someone who works a lot and for long hours, but is very happy doing it? Some psychologists (professionals who study the mind) call these people "engaged workaholics," people who have a healthy and positive passion (strong emotional feeling) for their work. ("Engaged," in this case, means having your full attention and involvement.) The engaged workaholic may work hard, but he or she is not likely to burn out (ruin their health because of working too much) like classic workaholics. Rather than being under stress while working, engaged workaholics are happier when they're working.
Not surprisingly, some scientists say that having control over the work helps determine whether you're a classic or engaged workaholic. If you're a CEO (Chief Executive Officer; main manager) of a company, you have a lot of demands on you (many requirements for your attention or action), but you also have a lot of control. If you have more control, the work may be more interesting and engaging. On the other hand, if you are in a demanding job with little control over what and how you do it, that's a situation ready-made (made for) classic workaholism.
These ideas are not new, of course. Psychologist Mihaly Csikszentmihalyi, who is originally from Hungary but who immigrated to (moved to to live) the U.S., has written a lot about the concept (idea) of "flow," a mental state (way for your mind to be) where you're completely involved in doing something that makes you feel energized (with a lot of energy) and happy, and time slips away (goes by without you realizing it). That activity may be anything, but usually you're learning something new. If your work gives you flow, then it's no wonder you're an engaged workaholic.
Are you an engaged workaholic? Do you know anyone who is? Are there any activities at work or in your leisure (not working; relaxing) time that gives you flow?
~ Lucy
Picture Credit: Detail from "Labor" by C.S. Pearce, Library of Congress, PD