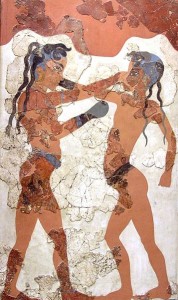 Our Cafe for this week talks about one of the most famous murder cases in the history of my fair (beautiful; nice) city, the O.J. Simpson trial. During the trial, Simpson's charismatic (charming; appealing; attractive) lawyer, Johnnie Cochran, used every rhetorical (related to the use of language) trick in the book (that has ever existed) to convince the jury that O.J. was innocent. One of those tricks was one of the simplest but most effective strategies in communication: rhymes.
A rhyme is when one word sounds like another word, such as "luck" and "truck" or "leaf" and "grief" (sadness). In the Simpson case, the police had found gloves (what you wear on your hands) with blood on them. Cochran told the jury that the gloves didn't even fit (were not the right size) for Simpson, and therefore he could not have been the murderer. He told the jury, "If gloves don't fit, you must acquit!" (To acquit means to decide that he is innocent (not guilty) of the crime.)
Simpson was found not guilty.
Several studies have found that not only do rhymes help us remember things, but that we actually believe statements (things people say or write) that rhyme more than ones that don't. For example, researchers (investigators; scientists) found that people were more likely to believe this rhyming statement:
What sobriety (not being drunk) conceals (hides), alcohol reveals (shows you).
than this non-rhyming expression that means the same:
What sobriety conceals, alcohol unmasks (reveals).
One theory is that the brain likes information that is easy to "process" or understand, and rhymes make a statement easier (and faster) to process.
Perhaps this is why so many proverbs (traditional sayings or expressions) in different languages tend to (usually; often) rhyme, such as "Birds of a feather (similar birds) flock (group themselves) together," where "feather" rhymes with "together."
Are there rhyming expressions in your own language?
~Jeff
Photo credit: Boxing gloves in Minoan painting on Knossos, around 1500 B.C. Wikipedia CC