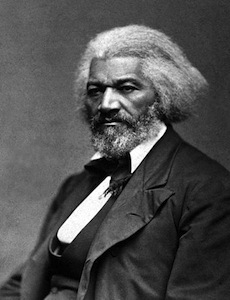 What does it take to be successful? Michelle Obama commented (said something) about that recently. So did the president of Harvard University and Michael Lewis, who wrote the book Moneyball, which became a very successful movie. But let me start with what we call The American Dream and Frederick Douglass.
The American Dream isn't the kind of dream you have at night while you're sleeping. It's an unwritten expression (a way to show how you feel, what you think) of American values (ideas about what's right and wrong or important). Everyone's American Dream is probably a little different. But at the core (the center) there are some values that most people agree about.
Much of the American Dream grows out of (comes from) the Declaration of Independence, which says that "all men are created equal" and have been given certain rights (something you are allowed to do or have). These rights include "Life, Liberty and the pursuit (to try to get or achieve) of Happiness." According to the American Dream, these rights make it possible for someone to succeed, become prosperous (rich and successful), and move up in society by working hard.
Many years ago, in 1859, Frederick Douglass described the secret of success in a speech he called "Self-made Men". According to Douglass, self-made people (people who are responsible for their own success) succeed in only one way: they work hard. Success doesn't come from being born into the right family, knowing the right people, having social or economic status (position in society), receiving money from your parents, going to the right school, or any of the things we often believe to be necessary for success.
Douglass should know: he lived the American Dream; he was a self-made person. He was an African American who escaped from slavery and became a famous public speaker, writer, statesman (national leader, especially one who is wise), and early leader in the anti-slavery movement.
Even though Douglass stressed (emphasized) the importance of hard work, he acknowledged (say that something is true) that other people contribute to (add to; help) our success. He said that nothing can make someone totally independent of the people who came before (lived earlier). In other words, even hard-working, successful, self-made people need other people.
Michelle Obama's recent Democratic National Convention speech has received a lot of well-deserved (appropriate) attention. In her speech, she told about the people who contributed to her and President Obama's early success. She said, "We learned about gratitude (being thankful) and humility (not thinking you're too important); that so many people had a hand in (contributed to) our success, from the teachers who inspired (encouraged) us to the janitors who kept our school clean; and we were taught to value (to consider important) everyone's contribution and treat everyone with respect."
Earlier this summer, President Drew Faust reminded Harvard graduates (someone who has completed a university degree) that they were "extremely lucky" to be graduating from Harvard. She reminded them that even if they had worked hard to overcome (fight and win) many obstacles (something that makes a situation difficult), their success was partly due to good fortune, to events they couldn't control.
Michael Lewis told Princeton graduates the same thing. And he illustrated (showed) what he meant by telling the story of his life. For example, he got his first job because he sat next to the wife of a company executive at a dinner. After the dinner, she told her husband about Lewis and insisted that he give him a job. Lewis would say that he was lucky, or fortunate, to get that job. He got it because of a situation he didn't create or couldn't control.
In addition to recognizing the importance of other people and good fortune, Lewis challenged (strongly encouraged) the graduates to remember people who aren't so lucky, or fortunate. He told them that success creates an obligation (responsibility) to help people who aren't so fortunate. In other words, successful people need to help people who aren't as successful as they.
What do you think it takes to become successful? Are there any people we can truly call self-made? Do you agree that success brings obligations to help other people?
~ Warren Ediger – English coach/tutor and creator of Successful English, where you'll find clear explanations and practical suggestions for better English.
Photo courtesy of Wikipedia Commons.