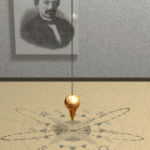 In the emails we get from listeners, people often tell us when and where they listen to the podcast. Many tell us that they listen to the podcast while they commute, traveling between home and work or school.  Others tell us that we keep them company (are with them) when they exercise or run errands (do things like going to the store or post office).  Some people listen to the podcast when they do housework or other chores (routine tasks, usually related to the home).
In addition to telling us how and where they listen to the podcast, some people have told us about the effects of the podcast. A number of (several; many) parents have told us that their babies and young children like to listen to Jeff's voice. I should tell you that I have been out in public with Jeff, and I have seen how babies react to him.  They love him.  I don't know if he just has a friendly face or if, because of his bald (without hair) head, babies think he is one of them?  I'm not sure. But parents have written to tell us that babies love listening to Jeff's voice, often being lulled (made to feel sleepy in a calming way) to sleep.
Do you have babies? Have they fallen under the spell of (felt the magical effects of) Jeff's voice?
I guess babies aren't the only ones.  Many people have told us that they listen to Jeff in bed, right before going to sleep.  They tell us that Jeff's voice has a calming effect on them, helping them fall asleep. We know that Jeff isn't boring, so what is the secret to Jeff's soothing (gently calming) powers?  Perhaps Jeff has hypnotic (when people are awake but very sleepy and does whatever someone tells them to do) powers that he doesn't even know about.
How and where do you listen to the podcast?  Have you had or observed any special effects of Jeff's voice? Do you think Jeff's voice has other strange powers we don't know about?
~ Lucy
Photo Credit: Foucault Pendulum from Wikipedia