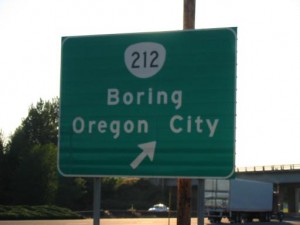 Dull and boring are synonyms (words with a similar meaning). They both mean uninteresting, not very exciting, or not entertaining. You can use them together in a sentence: "He was a dull, boring speaker who put me to sleep." As of June of this year, however, dull and boring have an entirely (completely) new relationship.
Dull, you see, is not just an adjective in English. It's also the name of a village (very small town) in Scotland. And Elizabeth Leighton, who is from Dull, was here in the United States not too long ago (recently), bicycling through the state of Oregon, located just north of California. As she was riding her bike, she came across (discovered without looking for it) another town with a similar name: Boring, Oregon. And then it hit her (suddenly she had a great idea or realized something important): Dull and Boring should be sister cities!
Sister cities are when two different towns or cities in different countries decide form a "relationship," usually sending gifts or representatives to the other city (we talked about sister cities in English Cafe #234). Los Angeles has 25 different sister cities, including Beirut (Lebanon), Berlin (Germany), and Nagoya (Japan).
Dull and Boring wanted to be sister cities, too, but there was a problem: Dull is too small to be an "official" sister city for Boring. That fact didn't stop the residents (people who live in) Dull and Boring, however. The citizens of Dull voted to "pair" (associate, put together) the two cities anyway. So now, when you drive into Dull, you will see a sign that says the two towns are paired.
If you ever visit Dull or Boring, be sure to let us know.  I'm sure you'll have a real exciting time there.
~Jeff
Photo credit: Boring, Oregon sign, Wikipedia CC