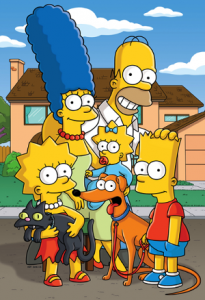 When I first moved to Los Angeles more than 20 years ago, I discovered a writer, actor, and radio show host by the name of Harry Shearer. At the time, Shearer was writing a weekly column (regular series of articles for a magazine or newspaper) for the Los Angeles Times, but he was becoming much more famous for doing the voices for some of the characters on a (then) new TV series, The Simpsons.  A few weeks ago he wrote an article in Newsweek magazine talking about his marriage which I think is worth retelling (repeating).
In 1992, Shearer traveled to London where he met a woman (Judith Owen) and fell in love. Shearer invited Owen to come to visit him in Los Angeles, and she said yes. She was a British citizen and had apparently never been to the United States before. When she arrived at the immigration desk at LAX (Los Angeles International Airport), they asked her the usual question for visitors, "Are you here for business or pleasure (for fun)?" She answered that she had actually come to see the man she planned on marrying someday.
Wrong answer.
You see, the U.S. immigration officials are very suspicious (doubtful about someone or something) of people from other countries who marry U.S. citizens, because they think that many of the marriages are not "real" marriages, but instead are ways for the non-U.S. partner (husband or wife) to get permission to work in the U.S. So the last thing you want to say (the one thing you should never say) when arriving to the U.S. is that you are here to marry an American!
The immigration officials allowed Shearer's wife to enter the U.S. (after a four-hour interview). Shearer and Owen did in fact get married, but their experience with the immigration office was not over (finished). If you marry a U.S. citizen, some months or years later you need to go to a personal interview with an immigration official, who will decide whether your marriage is real. If they think your marriage is a fraud (a false action or attempt to break the law), the non-U.S. partner could be deported (forced to leave the country).
Shearer and Owen had their interview about two years later. Like many couples in this situation, they prepared for weeks for the interview. They memorized all the personal information about each other that the immigration officer might ask them to make them prove they really did live together. They brought receipts and other documents to show that they had spent time together, including photographs of trips they took. They felt they were ready for any long interview to prove their marriage was real.
When they arrived at the immigration office, the official began the interview with a simple question to Shearer: "When did you two get married?" Shearer answered quickly and confidently, "March 29, 1993."
Immediately Owen elbowed (used the elbow of her arm to hit) Shearer in the stomach and said somewhat angrily, "March 28!"
The woman looked at the two of them, then said, "You're married. You can go." The interview was over; their marriage was real.
Perhaps you have to be married to appreciate (understand and enjoy) this story, but the general message is clear. Sometimes just being yourself (acting normally or naturally) is all you need to do. Everything else takes care of itself.
~Jeff
Image credit: The Simpsons, Wikipedia Fair Use