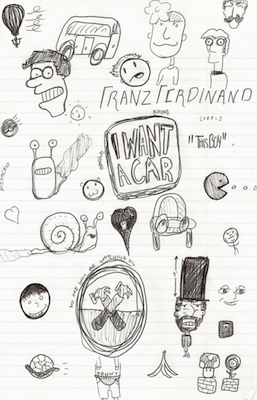 During a long telephone call, do you pick up a pen or pencil and begin to draw (make pictures) on a piece of paper? In school do you, or did you, draw in the margins (along the sides of the pages) of your notebook while listening to your teacher and trying to take notes? Do you draw on your notepad (sheets of paper fastened together for taking notes) during business meetings? If your answer to any of these questions is "yes," you're a doodler.
Doodling is drawing without really thinking about what you're doing, usually while doing something else, like talking on the phone, listening to your teacher, or sitting in a business meeting. And many people do it.
The word "doodle" has an in interesting history. According to Wikipedia and other sources, it first appeared in the early 17th century – early 1600s. It meant fool (stupid person) or simpleton (someone with low intelligence). Not a good start!
Before the American Revolutionary War, British soldiers sang a song – Yankee Doodle – to mock (make fun of) the army of the American colonies. They often called the colonists "Yankees", so when they sang that song, it was like saying "stupid colonists". Maybe that's why the colonial army fought so hard!
In the early part of the 20th century a new meaning emerged (appeared). Doodling became an activity that you did absentmindedly (without thinking) while doing something else, like listening to your teacher. And someone who doodled was either wasting time or being lazy.
In 1936, doodling's reputation (people's opinion about something) took a turn for the better (improved). In the movie Mr. Deeds Goes to Town, one of the characters uses scribbles (drawings made very quickly) to help himself think. And he called them … doodles.
Today it seems that doodles and doodling are becoming cool. Google doodles appear on its home page on special days. They are delightful (fun) changes made to the Google logo (a small design that identifies a company) to celebrate holidays, anniversaries, and the lives of famous people.
Last year Sunny Brown proposed (suggested) a new definition for doodling. She believes people should think of doodling as "making spontaneous (unplanned) marks to help yourself think." She and others believe that doodling helps the brain to focus on (pay attention to) our thoughts. And that it helps us organize our thoughts, remember them, and share them with other people in a way that's easy to understand.
I'm a doodler. I may do some of the doodling I described at the beginning, but it's usually the kind that Sunny Brown describes. I often carry a notebook so I can doodle to organize my thinking about something. In fact, I doodled to organize my ideas for this blog post. I often use a special kind of doodling called mind mapping. When I was in graduate school, I mind-mapped much of the reading I had to do. When I teach, I often fill the board at the front of the room with mind maps and other kinds of doodles to help my students understand what I'm talking about. In my office, I keep a pile of large sheets of paper for mind mapping close to my desk, and I have a mind-mapping app on both my iPad and laptop.
Many great writers, artists, and scientists have been doodlers. The doodles in Leonardo da Vinci's notebooks, for example, show a brilliant (intelligent, creative) scientific and artistic mind at work. Thomas Jefferson, Ronald Reagan, Bill Clinton, and several other American presidents were doodlers.
Are you a doodler? What kind are you, the absentminded kind or the kind Sunny Brown describes? Or, like me, both?
~ Warren Ediger – creator of Successful English, where you can find clear explanations and practical suggestions for better English.
Image courtesy of Wikipedia Commons.