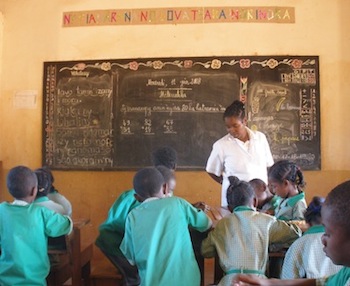 In my work with students from many different cultures, I've discovered that educational values (ideas about what's important) vary (change) a lot from one culture to another. Even in the U.S. today, there are ongoing (continuing) debates about educational values and what students need to learn.
With that in mind (thinking about that), I was attracted to a recent article on the eSchool News website. They asked their readers this question: "If you could choose only one, what's the skill (ability to do something well) you'd like every student to learn? The eSchool News readers represent (come from) all levels of American education.
Not surprisingly, reading was the most popular response (answer). It appeared twice as often (two times more) than all the other responses. Here are some of the other skills that ranked high (had a high position) in the survey (set of questions) and brief summaries of what the eSchool News readers said about them:
Write – Students need the ability to think clearly about what they write, to choose the best ideas, and to organize them so they make sense (are understandable) to their readers.
Communicate effectively and with respect – Effective oral (spoken) communication begins when we try to understand the people we speak to. And it depends on our ability to clearly, concisely (without unnecessary words), and respectfully explain our thoughts and ideas.
Question – Asking good questions and finding and evaluating (judging how good or useful something is) possible answers allow students to take control of (be responsible for) their own learning and discover ideas that they might otherwise miss.
Be resourceful – To be resourceful means to be good at finding ways to solve problems. If students know how to find and verify (discover if something is true) information and ideas, they can learn more and they can learn more effectively (in a way that produces the result we want). One eSchool News reader wrote that "knowing how to find the right information is more important than memorizing information that very likely (probably) changes rapidly."
Be accountable – Someone who is accountable is responsible for the results of what they do. An accountable student says, "I'm responsible for what I learn," and chooses to be a learner, often for life.
Know how to learn – "The most important skill," one reader writes. Students need to learn how to learn on their own (by themselves) because they will need to know things during their lifetime that we can't even imagine (think of) right now. If they learn how to learn, they will always be able to teach themselves. They should not have to depend on teachers and schools.
Think critically – One reader calls this thinking "like a scientist" – using evidence and careful, logical (where facts and ideas are connected in a correct way) thinking to analyze information and ideas.
Be happy – Several eSchool News readers stressed (emphasized) the importance of being a happy, caring person. And one of them suggested that character development – learning courage, honesty, loyalty, and other valuable qualities – at home and in school is the key to happy students.
What do you think about these ideas? How many of these skills are emphasized where you live? Would you add others? Would you eliminate (take away) any of these?
~ Warren Ediger – creator of Successful English, where you will find clear explanations and practical suggestions for better English.
Photo courtesy of Wikipedia Commons.