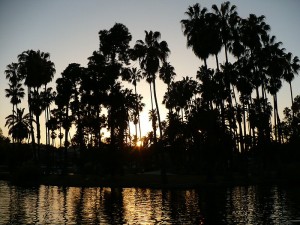 Last week I talked about the importance of shortcuts in the life of an Angelino (someone living in Los Angeles). Today I'll add another essential (necessary) element (part) of life in L.A.: Expect people to be flaky.
To be flaky (can also be spelled flakey) means to say you will do something but then don't do it, especially when it relates to meeting someone, calling them, or going somewhere with them.  This is something that people who move here – and the majority of the people in Los Angeles are from another city, state, or country – notice right away.  I noticed it within a few weeks of moving here in 1991. But then like most long-time Angelinos, I soon took no notice of (did not pay attention to or think unusual) people's flakiness (the state of being flaky) and just assumed that it was normal.
Here's an example of being flaky: You say to your friend that it would be great to visit that new restaurant on Sunset Boulevard.  Your friend says, "I'll call you on Friday and we'll go!" or even "Great idea! Let's meet there Friday night at seven o'clock!" Come Friday (when it is Friday), your friend doesn't call.  Or worse, you actually go to the restaurant and the person doesn't show up (arrive for an appointment).  When you call or text them, they say that they "forgot" or, if you were supposed to meet them somewhere, give you the classic (most typical or well-known) Angelino excuse: There was horrible traffic! But you remain friends, because in L.A. you expect people to be flaky, so this doesn't seem unusual.
Being flaky isn't something most Angelinos are proud of, and not all Angelinos are like this.  But it is common enough, I think, to warrant (deserve) mention in any description of typical Los Angeles behavior.
Let me hasten (quickly) to add that not all Angelinos are like this, and in general most probably don't approve of this sort of behavior.  I try never to be flaky, and I don't like people who are (and would not, in the end, be friends with them if they were!).
All places have their good and bad qualities.  What are some things people who live in your city or region are known for, good or bad?
~Jeff
Photo credit: Palm trees by Echo Park Lake by Nikhil Kulkarni CC