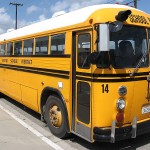 You are a public school principal (director) and school funding (money) is down. You have a difficult choice: Eliminate (cut) the school's music, art, or sports program or allow advertisements to be place in the school. What would you do?
That's the dilemma (difficult problem or decision) facing many schools in the U.S. today. With a poor economy comes less governmental funding, and advertisers are offering schools an alternative (another choice) to eliminating educational programs. Advertisers want to put advertising in schools, placing them on school lockers (metal boxes where students keep books and supplies) and on the side of school buses.
More and more schools are feeling desperate (hopeless; without other options) and opting for (choosing) advertising.  For example, in a school district (organization of many schools in one area) in St. Francis, Minnesota, the superintendent (director responsible for a district) agreed to cover 10% to 15% of the school's lockers with ads. Parents don't like it, but have not been too vocal (expressing an opinion aloud or loudly) because they know of the poor condition of school funding.
Advertisers, of course, love this form of advertising. School advertising reaches children and teenagers, an important demographic (specific group or part of the population) and the students are a captive audience (cannot leave or avoid what they see or experience).
What do you think of this form of advertising? What if the choice was between eliminating upper-level (advanced) math or science courses and school advertising?  Would your opinion be different?
Is there school advertising where you live? Are there other types of funding for schools?
~ Lucy