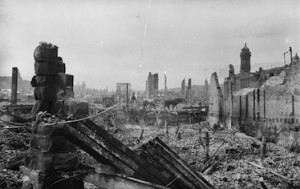 When you say "California," different people think of different things. Some think about Hollywood. Others think about warm weather and sandy beaches or the beautiful mountain scenery – the rock face (side or surface) of Half Dome, water falls, and towering (very tall) trees – of Yosemite National Park. Still others think about California's large, exciting cities, like San Francisco, Los Angeles, and San Diego.
There's another group of people that think – and sometimes worry – about earthquakes. California is situated (located) on top of a large number of faults, as you can see in this map. A fault is a large crack in the rocks that form (make up) the earth's surface. When these rocks shift (move) – up and down or from side to side – the result is an earthquake. From time to time (occasionally) there's talk about the possibility of another "big one" – a large, catastrophic (causing a lot of damage, suffering, or death) earthquake that could destroy entire cities and kill or injure many people.
California had a "big one" in 1906. The San Francisco earthquake of 1906 registered (measured) somewhere around (about) 8.25 on the Richter scale (a measurement using numbers to describe the power of an earthquake). It was so strong that people 400 miles (almost 650 km) away – in Los Angeles and the states of Oregon and Nevada – could feel it! More than 3,000 people were killed by the earthquake and the fires it caused. The San Francisco earthquake is considered one of the worst natural disasters in American history.
I recently discovered two old film clips (a part of a film) that show the dramatic (great; big) contrast of life in San Francisco before and after the earthquake. In the first clip, you'll see a fascinating picture of life in San Francisco more than 100 years ago. In the second, you'll see a graphic (with a lot of details) picture of the devastation (serious damage) caused by the 1906 earthquake.
The first film clip – A Trip Down Market Street – was made by putting a movie camera on the front of a streetcar and filming the changing scene (view of a place) as the streetcar travels up Market Street – one of the main streets in San Francisco – from the harbor (where ships stop) to the center of town. When you watch it, you'll learn a lot about San Francisco in 1906. You can still ride street cars today in San Francisco, but the scene is very different than it was 100 years ago! Coincidentally (by chance; not planned), this clip was probably made less than one week before the earthquake!
A Trip Down Market Street (This is an old silent film; there is no sound.)
The second film clip was compiled (to make something by putting together different pieces) in 2009 from news footage (film of an event) taken after the earthquake. Two filmmakers, Dan Meyerson and Matt Peterson, wanted to recapture (to bring back the experience of) what life looked like in San Francisco after the earthquake.
This clip follows almost the same route (the way from one place to another) – along Market Street – as the first clip. As you will see, the earthquake caused almost total devastation to downtown San Francisco.
Market Street after the earthquake
There's no way to know when or where the next "big one" will hit (happen suddenly) California. It could happen tomorrow or even wait another 100 years.
If you're interested in more American culture and history, you can find many things like these film clips at Open Culture, a web site that provides free educational and cultural media. It's the most appropriate for more advanced English learners.
~ Warren Ediger, creator of Successful English, where you will find clear explanations and helpful suggestions for better English.
Public domain photo by Arnold Genthe used courtesy of Wikimedia Commons