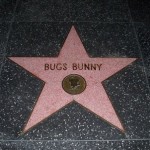 One of the benefits of living in Los Angeles is that you can rub elbows with (to mix socially with) celebrities from television and film.  Okay, so we don't actually rub elbows with celebrities, at least I don't, but we do catch a glimpse of them, or see them briefly, now and them.
Having lived in Los Angeles for nearly 20 years, I've seen some major and some minor celebrities.  Many of the minor celebrities are those you recognize as being on TV or in movies, but can't really place them (know where you've seen them before).  When I see a major celebrity, though, there's no doubt about it.
If you see a celebrity and you're an Angeleno (someone from Los Angeles), the thing to do is to play it cool (not appear excited; stay calm).  You may want to go up to that person and get their autograph (signature) or just talk to him or her.  If you're an Angeleno, though, you don't do this.  You pretend you don't recognize him or her, or that it's an everyday occurrence (event) that you see celebrities.
That's what an Angeleno would probably do, and that's what I've done, although whether it's because I respect their privacy (right not to be bothered by other people) or I'm just too chicken (cowardly; not brave enough) to speak to them, I'm not sure.  However, even though I try to play it cool, when I see a major star, I still get very excited–on the inside.  Here are a few of my major star sightings, or occasions when I've seen a major star:
Julia Roberts – I saw her running along the beach and also in a large bookstore with her (current) husband.
Queen Latifah – I saw her at a restaurant in Beverly Hills.  Don't get the wrong idea.  I don't eat at fancy restaurants often, but this was a special occasion with a group of friends and colleagues (co-workers).
Barbra Streisand – I saw her at a restaurant in Malibu with her husband.
Denzel Washington – I saw him at a Lakers basketball game.  He had floor seats (seating on the ground level) and so did the friends who invited me to join them.
I'm happy to have seen these and other celebrities.  Still, there are many more I'd like to catch a glimpse of, including actors Johny Depp, Michael Kitchens, David Suchet, and Julianne Moore, and the First Family (President Obama, First Lady Michelle Obama, and their children).
Which celebrities would like to rub shoulders with, or at least catch a glimpse of?  Would you play it cool or would you try to talk to them and/or ask them for their autograph?
~ Lucy