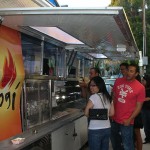 You drop out of law school. You're a disappointment to your parents. You spend your days sitting on the couch (sofa) watching TV.  That doesn't sound like the start of a successful business, does it?
However, it is the beginning of the unlikely road to success for Roy Choi.  Back in 1996, Roy didn't know what he would do with his life.  Then, one day while watching the Food Network, a cable TV station devoted to (focused on) cooking and food, he got an inspiration (sudden idea).  He wanted to become a chef (professional cook).  He enrolled in a good culinary (cooking) school, and eventually worked his way up to chef at the Los Angeles Beverly Hilton Hotel, where many celebrity events take place.  After he was fired from his next job, he decided to try something different.
After cooking gourmet (high quality, made with a lot of skill) food in some of the best restaurants, he decided to take his cooking on the road — in a lunch truck.  The lunch truck is a large truck with a simple kitchen that travels from place to place to sell food.  Traditionally, in the U.S., lunch trucks sell inexpensive food, such as sandwiches and burgers, and travel to places with a lot of workers, such as near large business buildings or construction sites, where workers are doing the physical work to put up a building.  Roy wanted to turn (change; replace) that traditional lunch truck food into gourmet food.  Instead of unhealthy fast food, he would serve quick, cheap, and convenient gourmet food, and his specialty was a new type of cuisine that combined Korean and Mexican food.  From these lunch truck, he sells unusual dishes such as kimchi quesadillas and (Korean) short-rib tacos.
Soon after the Kogi trucks began traveling around Los Angeles, they became a cult hit (very popular with a small group of people).  The owners of the lunch trucks used viral media to tell people where the trucks would park and serve.  Viral media includes Twitter and Facebook, and is any type of electronic communication that can get information to a lot of people in a very short amount of time.  An announcement would go out on Twitter about the time and location of the next appearance of the truck and people would flock to (many people would move quickly to) that location.  Good food, cheap prices, cooked by a top chef — visiting these lunch trucks become the in thing (trendy; popular thing) to do.
Even though I live in Los Angeles and have heard about these lunch trucks for over a year, I haven't had the pleasure of visiting one yet, but I hope to soon.  I want to know what Korean-Mexican food tastes like!
Are lunch trucks popular in other countries?  If not, are there special restaurants or food stalls (table or stands on the street) where people can go for a quick meal?
~ Lucy