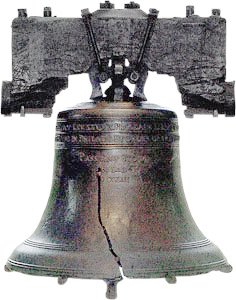 One of the United States' most important cities in its early history was Philadelphia, Pennsylvania, located in the northeast part of the US.  Philadelphia was the site (location) of the first meetings of the Revolutionary War leaders in the late 1700s.  It was where the Declaration of Independence was signed in 1776, announcing our independence from Great Britain.  It was where our Constitutional Convention took place, and was our nation's first capital.  There's a great deal (a lot) of history in Philadelphia, and today it continues to be a popular place for tourists visiting the United States.
Like many popular tourist locations, Philadelphia also has many private tour companies that will take you around to all of the important areas and explain the history behind the city and its historic buildings.  And like all tour companies with talkative (talking a lot) tour guides (people who lead or are in charge of the tours), sometimes not everything they say is 100% accurate.  In fact, sometimes they make things up (invent things, say things that are not true), which can be very confusing for a tourist who does not know the real story.
The Wall Street Journal recently reported that some of the tour guides in Philadelphia were telling tourists that one of the early, popular leaders of our country, Benjamin Franklin, had fathered more than 80 illegitimate children!  (An illegitimate child is one who is born to a woman not married, although this term is not used very much today, especially since there is such a high percentage of American children born to unmarried mothers.)  Ben Franklin had the reputation for being, well, a "lady's man" (a man who is popular with women and tries to have many romantic relationships with them), but there is no evidence he had 80 children.   Another guide said that George Washington, our first president, once had lunch in Philadelphia with Abraham Lincoln, our 16th president, which would have been rather (very) difficult, since Washington died 10 years before Lincoln was born.
Because of these distortions (half-truths, false ideas) by some tour guides, the city of Philadelphia decided to institute (begin, start) a mandatory (required, obligatory) history test that all the registered guides had to take and pass to get permission to be a tour guide.  This seems at first like a reasonable idea, but the tour guides disagreed.  They didn't want to be forced to take an exam, and instead sued (took legal action against) the city to stop the test.  Their reason?  One of the freedoms that Americans are supposed to have is freedom of speech, the freedom to say what you want, whenever you want (with some restrictions, however).  Having to take an exam limited the freedom of speech of the tour guides, they said.  The city of Philadelphia responded by saying that no, they were not required to actually tell people the facts included on the test; they only had to pass the test.  After that, they could say whatever they wanted!
While I understand what the city of Philadelphia was trying to do here, it does seem like a rather difficult task to come up with (create) an "official" history that all guides must follow.  Part of the problem is that historians do not all agree on what the "true" history is of a place.  And I agree with the tour guides that the government cannot be in the business of regulating what someone can say in public, even if it isn't true.  And if the guides are not required to actually use the information they learn from the test, why bother (why go to the trouble of) giving them a test at all?
But what about the poor tourist, who will get possibly false information?  I think that most tourists know enough not to believe everything they hear from a private tour guide.  I have been on many tours and I always keep in mind (try to remember) that at least some of the things they tell me are probably not true.  I myself was in Philadelphia back in 1976 for the bicentennial (200th anniversary) of the Declaration of Independence (I was a boy of 13 at the time), and while I remember visiting the famous historical sites, I also remember reading my own tour books to get the details on the places I was visiting.  Most Americans study about the Revolutionary War, so (I hope) they at least will know what is true and what is not.  For international tourists, it may be a good idea wherever you travel to read a little on your own rather than relying on your tour guide.
Here's an interesting idea: Take a tour of your own city and see what the tour guides tell visitors about where you live.  You may be surprised by some of the things they tell you!
~Jeff