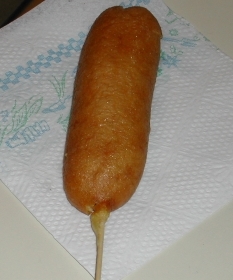 Guido in Rome, a listener and friend of the podcast, sent us this amusing (funny) video.  This is a musical performance by a group called "Improv Everywhere."  Improv is short for improvisation, which means to create a performance without preparation.  Clearly these performers have rehearsed (practiced) this performance, but it doesn't make it any less amusing.
This takes place in a shopping mall food court in Los Angeles.  A food court is an area in a shopping mall with a lot of fast food restaurants and a large common (shared) area with many tables and chairs where people sit to eat.  What these unsuspecting (unaware) shoppers never expected was a musical performance like this!
By the way, the woman who begins the song and who is wearing the funny hat works at a chain of fast food stands/restaurants with locations in many California shopping malls called "Hotdog on a Stick."  They are well known for their lemonade, a sweet drink made with lemons, and corn dogs, hot dogs wrapped with a type of bread and deep fried (see picture).
~ Lucy
Here are the first lines of the song.
Lemonade spilled across the countertop (a flat surface for working, usually in the kitchen).
There's ice and lemons everywhere now.
I've got to clean it up.
Can I get a napkin, please?
I'm going to need some just like these.
I've got three or four, but I might need more.
Can I get a napkin, please?
Ah man!  Can I get a napkin, too, by chance (possibly)?
I have spilled some mustard (a yellow paste people put on their hot dogs and hamburgers) on my pants.
What a pain, it's a shame, this is probably going to stain (leave a permanent mark),
If I don't get a napkin…
We both need napkins, that's a fact.
That's true.  It's napkins that we lack (don't have).
We're agreed, we're in need,
On our knees we humbly plead (beg),
Can we get a napkin, please?
Can I get a napkin, please?
I promise that we're not wasting trees.
I'll take one from you, and from this hot (attractive) girl, too.
Can I get a napkin, please?
I need a napkin.
I have an infant (baby) in my arms,
And I don't mean to cause alarm (make others worried or anxious)
She just hurled (vomited) on my pearls, she's my darling little girl
But, can I get a napkin…?
I'm the janitor (someone whose job is to clean),
The working man you all adore (love)
Sweeping up this dirty floor,
Boy, my left foot sure is sore (hurting).
I just want a chance to show the world that I can dance!