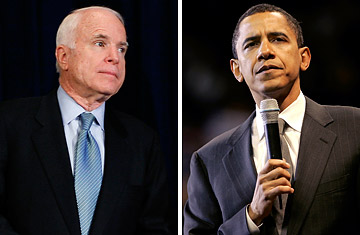 Today is Election Day in the United States.  Normally, the first Tuesday of November is an election day every year for different political offices (positions) at the state and local level.  Every four years, however, we have a national election for president.  This year, you probably know, the two main candidates are Senator Barack Obama and Senator John McCain.  Obama is leading (is in first place) in the polls (opinion surveys about how people will vote) and is considered a favorite to win (someone who is expected to win).
Although the election of the president is the most important part of today's election, there are also many other elections taking place.  All 435 members of the U.S. House of Representatives are being elected today, and about one-third of the 100 U.S. Senators.  In addition, there are many state and local elections, including votes on certain specific political issues or laws (called propositions) that people will decide directly.
Who will win?  We'll find out by tomorrow morning, unless the vote is very close.  However, it is important to note that the U.S. presidential election is determined by a somewhat complicated system and is not just the candidate who gets the most votes nationally, although usually this is what happens.  If you want more information on how we elect the president, listen to our English Cafe #118 where I explain it in more detail.
~Jeff