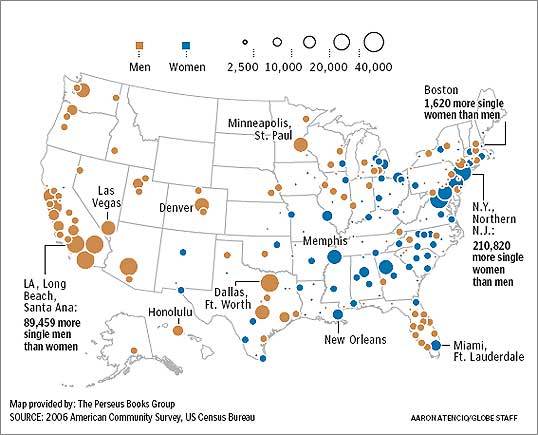 If you want to come to the United States and meet a handsome (attractive, good looking) single (unmarried) man or beautiful single woman, where should you go?
Recently someone looked at the number of single men versus single women who live in large cities in the United States.  In some cities, there are many more single women than single men, meaning these would be better places for a man to meet a single woman.  In other cities, there are far more single men than there are women, meaning that these would be  good places if you want to meet a man (and a bad place if you want to meet a woman!).
According to the Boston Globe newspaper, here are some of the best places to meet single women (or at least, the cities that have a lot more single women than single men):
New York City
Philadelphia
Detroit
Chicago
In general, large cities in East and Midwest tend to have more women than men.  The exception to this rule seems to be the cities of Minneapolis and St. Paul, where I grew up.  Perhaps it is a good thing that I left there!
The following cities would be the best ones for a woman to meet a man (or the worst places for a man to meet a woman):
Los Angeles
San Francisco
Phoenix
Seattle
San Francisco
Las Vegas
Large cities in the West and Southwest have more single men than single women.  So although many men come to Los Angeles to become famous in the movies or on television, it's not the best place to meet your future girlfriend.
What explains this difference in the number of single men and women in different cities?  One theory is that men are more likely to leave their hometown (the place where they were born or grew up) and move to another city that has more job opportunities.  In the last 30 years, many of the new jobs have been created in places such as Los Angeles, Phoenix, and other large cities in the Southwest and Pacific Northwest (in states such as Washington and Oregon).   States in the East and Midwest have lost many jobs, and since women are less likely than men to move to find a new job, you find more single women in eastern cities than in western cities.
What city can you go to where there is an almost equal number of single men and single women?  The answer is Boston, Massachusetts, although no one understands why that is.
~Jeff