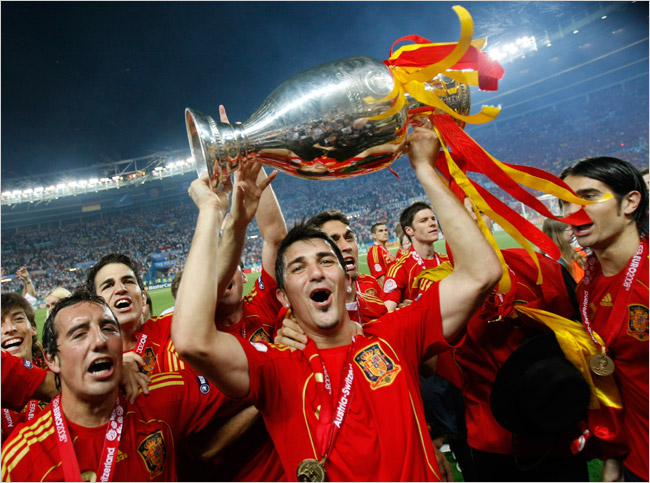 Americans on average don't watch much professional soccer on television. However, soccer is popular among Spanish-speakers in the U.S.  If you want to watch a game of soccer on television, you usually have to watch a Spanish language channel in a large city (like Los Angeles, which has several Spanish language TV stations).  Although most Americans don't watch soccer, they are familiar with what the announcer (the person who describes the game) says when someone scores a goal, because it is usually shouted (said very loudly) and for a very long time: "Gooooooooooooool!" (the Spanish word for goal).  It is something of a joke, actually, in talking about soccer in the U.S.
Even though soccer is not all that popular (not very popular), there were stories today in the newspapers about Spain defeating Germany in the European Championship.  One article in the New York Times said that the Spanish team "did what was unthinkable during the long decades of Spanish failure of heart and mind and toe."  To do the unthinkable is to do something very difficult, almost impossible.  A decade is 10 years.  The expression "heart and mind" refers to both the emotions (heart) and the intellect (mind or brain).  People sometimes talk about "winning the hearts and minds" of another group, which means convincing a group of people of something both emotionally and intellectually.
So by winning the Euro 2008 championship, the Spanish team did something very difficult, something that has not been done in many years – they united the country.
The funny part of this quote is the "and toe."  This is not part of the original expression, but it is added since we are talking about soccer, which of course uses the feet to kick the ball.
So congratulations to Spain for winning the Euro 2008 – and good luck to all of the other teams next time!
~Jeff