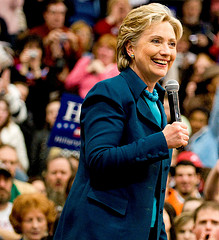 Today is a very important primary election in the states of Texas and Ohio (see my explanation of the U.S. election system here). One expression that you can read in the American newspapers today is "do or die." People are saying that these elections today are do or die for one of the candidates, Hillary Clinton.
When something is do or die, we mean that if the person fails now, their chances of winning or succeeding are over, that they will not win in the future. This is often said of situations where the person has one last chance to try to win something. Clinton has lost 11 primaries in a row (one after the other) to her competitor, Barak Obama. If she loses in Texas and Ohio, it will be almost impossible for her to win the race (election) to be the nominee of the Democratic Party in the November elections.
We'll know the answer to that question by tomorrow morning.
~Jeff