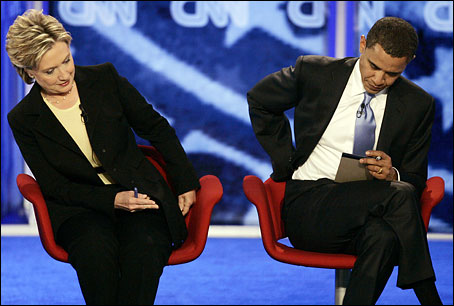 Well, the results are in (are available): Hillary Clinton won the elections in Texas and Ohio that I discussed in yesterday's post, and so the fight for the presidential nomination in the Democratic Party will continue. The next big election will be in Pennsylvania, seven weeks from now.
So far (up to this point in time), neither Barak Obama nor Hillary Clinton has enough votes to win the nomination. For the Republicans, John McCain will be their nominee (the person who has been named or nominated as the candidate) for president. I talked about McCain a few years ago on English Cafe #40.
One expression that I heard watching the election coverage (news) last night was buyer's remorse. A buyer is someone who buys or purchases something. Remorse is when you feel sorry for something you did, when you regret doing something. Buyer's remorse is an expression we use when we buy something (a new car, a new house, a new MacBook Pro with a 15″ screen and 250 gigabyte hard drive!) and then later regret our purchase. We wish we had not bought it.
So how is this related to the election? Well, Hillary Clinton's opponent, Barak Obama, has become very popular, very quickly in the past two months. He has become so popular that some people think that he has not been as carefully scrutinized (examined closely) as Senator Clinton. For this reason, some news commentators (people who give their opinion on the television and radio news shows) were suggesting that perhaps voters were sorry for supporting him earlier, that they changed their minds and instead are now supporting and voting for Hillary Clinton.
Of course, no one actually buys a political candidate. We should probably say "voter's remorse." We will have to see what happens in the upcoming (future) elections to know if the commentators are right.
~Jeff