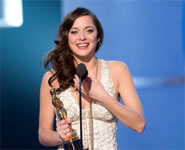 Last Sunday the annual awards for the best movies were given out (awarded, given to the winners) in Los Angeles. The awards are popularly called the Oscars, because the statue you win is called "Oscar."  But no one is exactly sure why is it called Oscar.  (Why the Jeff or Lucy?)   The Oscars are presented by the Academy of Motion Arts and Sciences (hence (therefore), the ceremony is often called the Academy Awards). There is a separate category for the Best Foreign (non-American) Film, but actors and actresses from any movie, foreign or U.S.-made, can be nominated (named as a finalist) for the acting awards. The top or highest awards for acting are Best Actor (a man) and Best Actress (a woman). There are also awards for Best Supporting Actor and Actress, meaning the actors who weren't the lead or most important actors in the movie, but were still important.
Many times in the past, actors from other countries have won acting Oscars, but this year, for the first time in more than 40 years, all of the top acting prizes – Best Actor, Best Actress, Best Supporting Actor, and Best Supporting Actress – were won by non-Americans.
Best Actor was given to an Irish actor, Daniel Day-Lewis, for the movie There Will Be Blood. Best Actress went to the young French actor, Marion Cotillard, for the movie La Vie en Rose. Best Supporting Actor went to the Spaniard, Javier Bardem, for the movie No Country for Old Men. Best Supporting Actress went to a British actress, Tilda Swinton, for her work in the movie Michael Clayton.
Movies are an international art form, so although Hollywood makes many of the most popular movies, I think it is a good thing that we recognize the great acting talents from all countries.
The Best Picture award went to No Country for Old Men, which was made by two people from my home state, Minnesota! So I guess Hollywood was the loser this year.
~Jeff