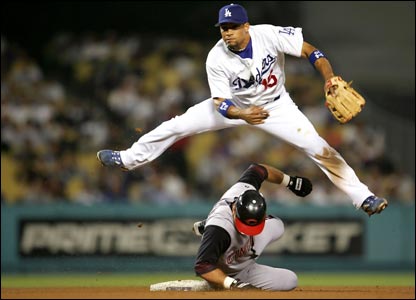 Baseball is one of the United States' most popular sports, but it has become popular in many other countries as well, especially in Asia and Latin America. In the U.S., the organization of professional baseball teams is called Major League Baseball (a league is a collection of teams who play each other in a sport). Yesterday, the MLB announced that it was going to have two of its teams, the Los Angeles Dodgers and the San Diego Padres, play two games in Beijing, China, on March 15th and 16th. This will be the first time that two professional U.S. baseball teams play a game in China. The game will take place in the stadium (an arena or place where many people can gather to watch sports) that will be used for the 2008 Olympics later this year.
As some of you know, I am a baseball fan, especially of the L.A. Dodgers. I don't think I will be able to make the trip to watch the games in China, but I'm sure they will be on television here, since both the Padres and the Dodgers are from southern California.
By the way, Padres is Spanish for "fathers" or "priests." The name refers to the fact that some of the earliest Europeans to come to southern California were Catholic priests from Spain (a priest named John would be called "Father John," for example). The word Dodgers is a bit more difficult to explain. The team began in Brooklyn, a part of New York City, and were originally called the Brooklyn Dodgers. To dodge means to move quickly so you avoid getting hit by something, such as a car or train. Back in the late 19th century, Brooklyn had small trains called trollies, so one of the original names of the team was the Trolley Dodgers, since people had to dodge the trollies when they crossed the street. The team moved to Los Angels in the late 1950s, but the name was kept, so they are now the Los Angeles Dodgers.
It is not uncommon for professional sports teams in the U.S. to move cities but keep the name of the city where they started. Another example: one of the professional basketball teams in Los Angeles is the L.A. Lakers. The team is originally from Minneapolis, Minnesota. They were called the Lakers because Minneapolis is called the "City of Lakes," since there are many lakes inside the city. When the team moved to Los Angeles many years later, the name remained the same, even though there aren't really any lakes in L.A.!
One more thing: the traditional way to start a baseball game is for the umpire (the referee, the person who makes sure players follow the rules) to shout, "Play ball!" Now I have to learn how to say that in Chinese!
~Jeff