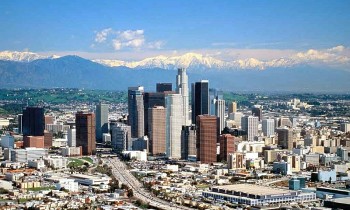 It has been raining here in Los Angeles pretty much non-stop (without interruption) for the past four days. It is normally very dry in southern California, but this year we have received a lot of rain and snow. One of the nice things about a big storm (bad weather, usually with rain) in L.A. is that the pollution levels go down, and you can see things that you cannot normally see with the dirty air we often have.
Yesterday I was driving around and I saw the beautiful, snow-capped mountains that surround the city. (The cap of something is the top of it, so snow-capped means there was snow at the very top of the mountain.) I imagined what Los Angeles used to look like many years ago, before the cars and smog and pollution of the city made the air dirty. For a brief moment, I was taken back in time.
Perhaps someday we will be able to reduce the pollution in our city so that we can enjoy the beautiful views of the mountain everyday, not just after one of the few days that it rains here.
~Jeff