Right now, the U.S. dollar is very low in value, which means that visitors from other countries can buy more and spend less. Canadians know this and are coming across the border (line between two countries or areas) to shop in American stores. One catch or difficulty is that shoppers have to pay duty (a government fee for taking something into the country) of around 6% when they reenter Canada.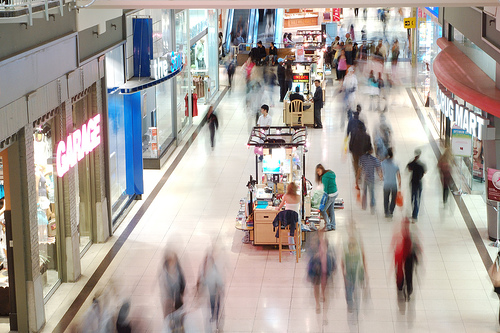 What to do? Some Canadians are leaving their old clothes behind in dressing rooms (a room in a store where you try on clothes) and garbage cans, and wearing their new clothes back home. This is, of course, illegal and if the shopper is caught, he or she will have to pay a fine that is much more than the duty.
Shopping malls are now finding a way to handle these left-behind items. One mall in New York has set up charity bins (containers) outside the stores to collect the old clothes. From this one shopping mall, the charities (organizations that help the poor and the needy) picks up about 20 bins of clothes each week!
I guess our Canadian neighbors are helping more than our economy. They're helping our poor, too!
~ Lucy