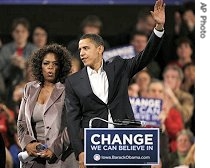 The U.S. will select a new president next year, and the candidates (people trying to win the position) have been campaigning (asking people for their votes) for almost a year now. The first election to select the candidates is in a few weeks.
One recent tradition in U.S. politics is celebrity endorsements, when famous people (actors, comedians, singers) show their support for a candidate by saying, "I'm going to vote for this person." All politicians have celebrities who support them, some more than others. Barak Obama, a senator from Illinois and a candidate for the Democratic party's nomination (selection) to run for president, has recently received the endorsement of one of America's most well-known talk-show hosts, Oprah Winfrey. I talked about Oprah almost two years ago on one of our first English Cafes, English Cafe #5. Oprah (as she is popularly known) has one of American's most successful television shows (named – are you ready? – "Oprah"!), and is one of the richest and most successful celebrities in the U.S., popular especially among women.
Will her endorsement help Obama's candidacy? No one knows for sure. Some people will probably be influenced by her endorsement. The other candidates will have their celebrities, too. In U.S. politics, Hollywood and Washington, D.C., have been moving closer and closer together for many years.
The Voice of America has a recent article about these celebrity endorsements, entitled "U.S. Presidential Contenders Enlist Celebrity Support to Push Ahead." A contender is someone who may win a race or contest, in this case the same as a candidate. To enlist means to ask for support, usually when you have a difficult task or conflict. To push ahead means to continue forward, to become the leader in a competition. So presidential candidates are asking celebrities for their help so that they can win the nomination.
ESL Podcast will not be endorsing anyone for president. (Of course, no one asked us to, either!)
~Jeff