In today's podcast, we talk about going to the park and finding a nice spot, or small place, to enjoy the scenery and nature. We mention in the "What Else Does it Mean?" section of the Learning Guide that "spot" can have a lot of different meanings, both as a noun and a verb, and in idioms like "to put (someone) on the spot."
If you ask an average American what they think of when they hear the word "spot," you may get a surprising answer: a dog. That's because "Spot" is the name of a dog in a series of readers or short books used in schools with a boy and girl named Dick and Jane. They had a dog named Spot. These readers were used in schools mainly from the 1930s to the 1970s. These books were well known for their repetition, like this: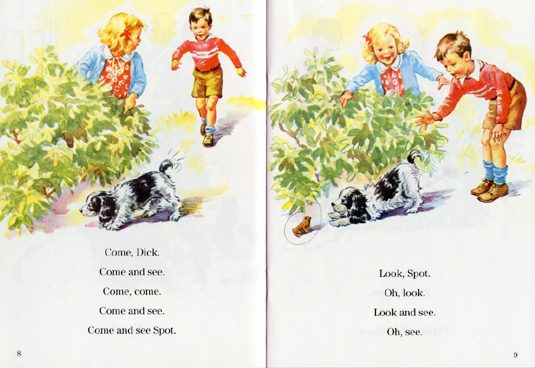 These books have been criticized over the years for being too focused on language skills and not on helping children learn to enjoy reading. Teachers and other educators–including Jeff and me–also say that these readers have poor language and uninteresting stories. In fact, some of the language is nonsensical (does not make sense). We do not recommend these readers to people learning English at any level, but they are a part of popular culture in the U.S.
Now when you see a dog or other pet in American movies and TV shows named Spot, you'll know why, and maybe wonder where Dick and Jane are.
~ Lucy