I read a fascinating (very interesting) story in the New York Times last week. A woman who lives in New York City was walking down the street one day when she saw a painting among some garbage bags on the sidewalk in front of a upscale (high class; wealthy) apartment building. It was a very large painting and she lived in a small apartment, but she really liked it and decided to take it home. She didn't think the painting was worth any money and she kept it for three years before she found out that it was valuable, very valuable.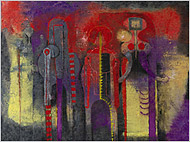 The painting had been stolen from a family in Houston, Texas, who had bought it for $55,000. For 20 years, no one knew where the painting was and it was considered a missing masterpiece (great piece of art). It is called "Tres Personajes" by famous Mexican artist Rufino Tamayo. The woman who found the painting only discovered it was famous when she did some research about the painter, whose name is on the painting.
The painting is now estimated or valued at $1 million. It was returned to the widow (woman whose husband died) from whom it was stolen and will be auctioned off next month at a public sale where the person who gives the highest price will get it. The woman who found it got a reward from the family and a small fee from the auction company that will be auctioning it off.
So the next time you see a painting in the garbage, think twice before you pass it by. Who knows? It may be another missing masterpiece.
~ Lucy