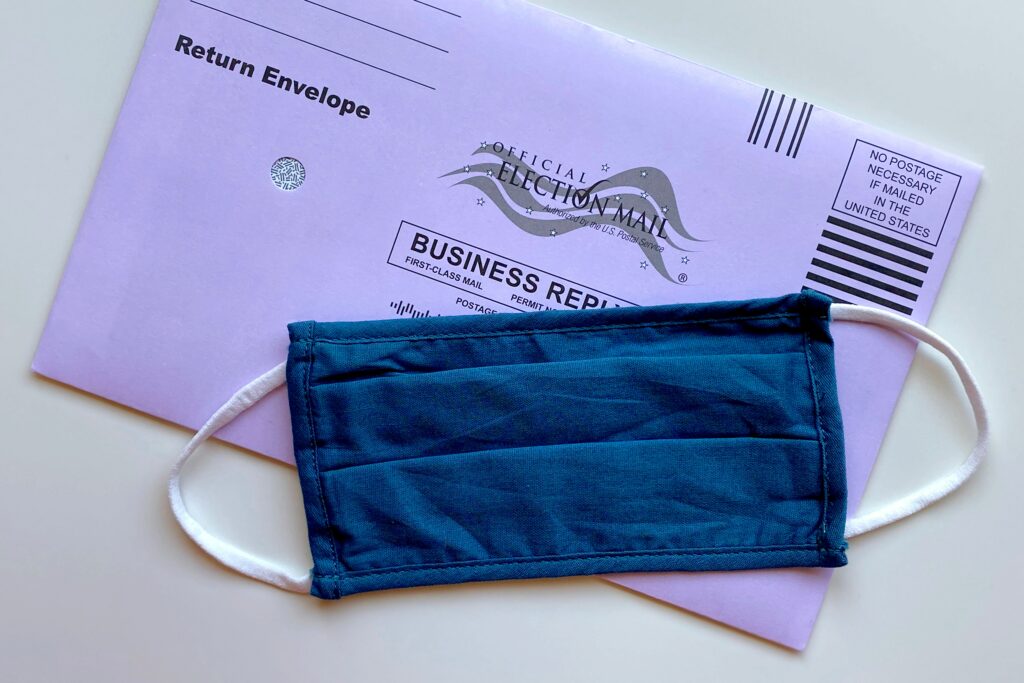 This is an important year in the U.S., an election year.
An election is an event that allows people of a country, state, or city to officially choose their government officials.
This year is especially important because it is a year for selecting our country's president, what we call a presidential election year.
Presidential elections occur every four years in the United States.
The federal or national election day is always the first Tuesday of November, so this year it will be November 3rd.
You probably already know that the two candidates are the incumbent (current; serving) President Donald Trump, and former Vice President Joe Biden.
But this year, the election will be tricky (difficult because of possible problems) because of the coronavirus.
Normally, most people vote at a polling place, the temporary places where people can go to get their ballots (official forms for voting) and to cast their vote (make their selections). Many people will probably still do this.
But because of the coronavirus, lots of people will be voting by mail. They will receive their ballots in the mail, vote at home, and mail in their ballots so they can be counted (recorded).
Voting by mail is not new. In past elections, every state has had absentee ballots.
To be absent means to not be where someone is expected or is supposed to be, so an absentee ballot is for a person who is not at the polling place to vote.
In some states, such as California, anyone can request an absentee ballot. For many years now, I've voted with an absentee ballot because it is easier and more convenient.
I normally get my ballot in the mail about one month before the election and mail it back by election day.
In other states, to get an absentee ballot, you have typically needed an excuse (a reason) that prevents (not allows) you from going to a polling place, including:
an illness, injury (being hurt), or a disability (permanent physical or mental issue that limits your movement or activities);
being away from home on election day because of work or vacation; or
studying at college in another state.
This year, because of COVID-19, every state will offer voting by mail. This has caused a lot of concern (worry).
First, some people worry that voting by mail may be less secure (safe) and allow for more voter fraud (cheating).
In addition to absentee ballots, some states (such as California) for the first time are sending ballots to everyone on their voter rolls (lists of registered voters), even if the voter has not requested a ballot.
Some fear that these voter rolls may not be up-to-date (have the latest information) or accurate.
Second, mail service has been less reliable in the past five months than it was before the COVID crisis. This may be because of the coronavirus, changes by the leaders of the post office, or both.
Whatever the reason, there is worry that not all ballots will arrive at the voter's home or that completed ballots may not arrive back to be counted in time.
Third, the number of mailed ballots this year will be much higher than in past elections, meaning it may take some states days or even weeks to count all the paper ballots.
Only time will tell (We will only know later) whether these concerns are warranted (should really have worried us).
No matter what, for good or ill (because of good or bad reasons), this will be a memorable (difficult to forget) election year!
~Jeff
P.S. Learn more about American elections and politics in Daily English 733 – Voting in an Election, Daily English 1230 – Expressing Disapproval of Elected Officials, and Cultural English 161 (about registering to vote).
P.P.S. Like this short English lesson? Get a FREE sample lesson (no money needed) – SIGN UP BELOW!
Just fill out the form below and we'll send a FREE lesson to try!
We hate spam, too! We will never sell, rent, or give your information to anyone – ever!
What Will I Learn in My Free Lesson?
Here is just a small part of what you're going to learn in this free lesson:
What "take a rain check" means and how to use it in a conversation . . .
The difference between a "recluse" and a "busybody" . . .
Why "to fend OFF" means something from "to fend FOR" . . .
What it means to "take a rain check," "keep to yourself," and "to appoint (someone)" . . .
What a social secretary is . . .
The best way to use "to sort out" and "to turn down" . . .
How to use phrasal verbs like "to settle in" and "to settle down" (they're not the same!) . . .