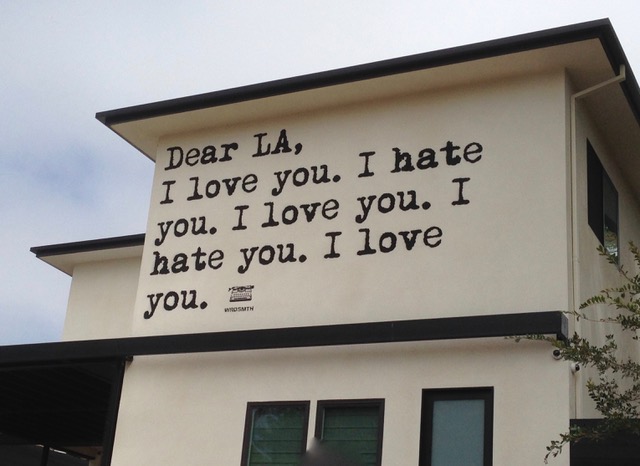 A few blocks from my house, the owner of a very large house recently painted a message to everyone who drives or walks past (see photo). It reads:
"Dear LA,
I love you. I hate you.
I love you. I hate you.
I love you."
What does it mean?
I haven't talked to the homeowners (people who own/have a house) who painted this, but I understand what they are saying.
When you live in a big city like Los Angeles (or anywhere, really), there are things you love about your city and at least a few things you hate.
If you live in a place a long time, you'll likely love more things than you hate. If you didn't, you would move to another city.
The homeowners says "I love you" three times, and "I hate you" only twice, so I am assuming that they love LA more than hate it.
What are the things that I love about LA? What things do I hate? Here's a quick list:
THINGS I LOVE
Great food from all over the world that doesn't cost too much.
A mix of people, languages, and cultures like few other cities in the world.
The weather.
Enough artistic and cultural sites to keep me busy and interested (but not as many as New York City, I admit).
The constant influx (arrival) of new "Angelenos" (someone living in LA) who come to the city to fulfill (get done) their dreams. It brings the city life and hope.
The weather.
THINGS I HATE
The traffic. There are too many cars (and people) everywhere you go.
Many people's sense of entitlement, thinking that the rest of the world owes them something, and they should get it.
The city government (a disaster, like California's state government).
Crime (see #3). It's much safer in LA now than when I moved here almost 30 years ago, but there are still too many thefts (things stolen) and murders.
The traffic.
So that's six "loves" and five "hates." For now, I guess I'll stay in Los Angeles.
What are things that you love and hate about the city where you live?
~Jeff
WAIT!


Before You Go . . .

Start Improving Your English Again with a FREE 30-Minute English Lesson!
Do you have difficulties remembering the "right" word when speaking in English?
Do you have to stop and think about everything you want to say in English?
Do you get lost when someone speaks English quickly to you?
Then you need to try one of our Unlimited English lessons from ESLPod.com!
Used by more than 1.27 million people in 189 countries, our Unlimited English lessons are designed to help you understand English so you can speak it.
Just fill out the form below and we'll send a FREE lesson to try!
We hate spam, too! We will never sell, rent, or give your information to anyone – ever!
What Will I Learn in My Free Lesson?
Here is just a small part of what you're going to learn in this free lesson:
What "take a rain check" means and how to use it in a conversation . . .
The difference between a "recluse" and a "busybody" . . .
Why "to fend OFF" means something from "to fend FOR" . . .
What it means to "take a rain check," "keep to yourself," and "to appoint (someone)" . . .
What a social secretary is . . .
The best way to use "to sort out" and "to turn down" . . .
How to use phrasal verbs like "to settle in" and "to settle down" (they're not the same!) . . .
And much, much more!