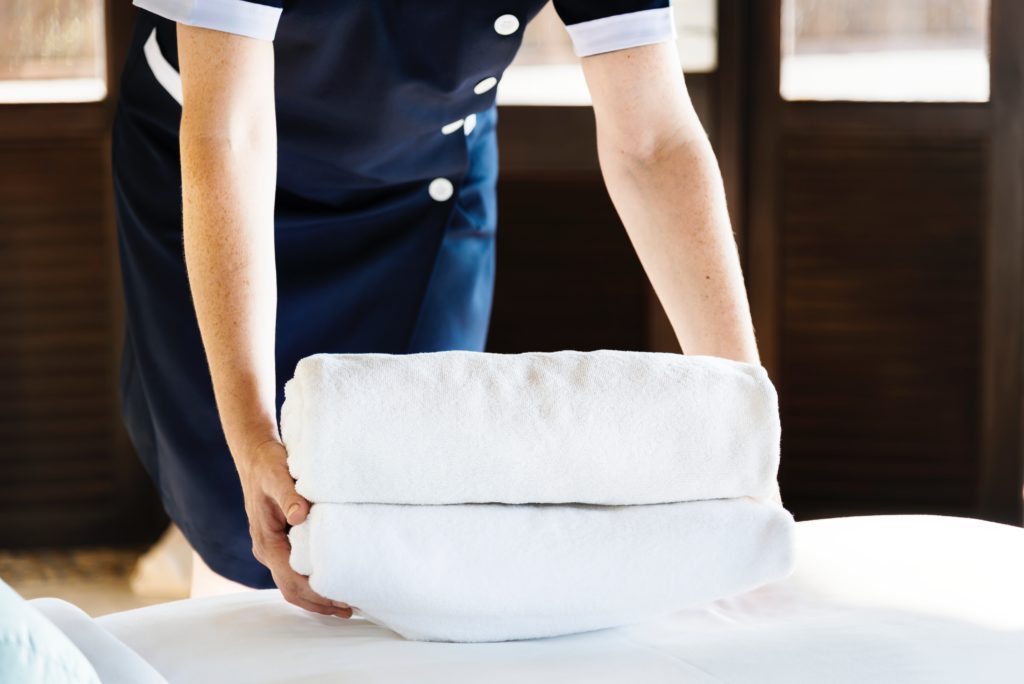 If you stay at a hotel in the United States, you may be sitting in your room and hear someone knock on your door. The person will say, in a loud voice, "Housekeeping!"
If you don't answer the "housekeeping" announcement within 10 seconds or so by saying "Please come back later" or "Not today, thanks," make sure you're fully dressed (have all your clothes on), because your housekeeper will open your door!
All hotels provide basic housekeeping (cleaning) services by keeping the rooms clean and well-stocked (with all the necessary supplies). However, nicer hotels provide many additional services.
For example, in nice hotels, housekeeping might provide turn-down service in which the staff (employees) prepare the room before the guest goes to bed.
Turn-down service includes turning down the sheets, or folding back the top part of the blankets and sheets so that the guest can get into bed easily. Turn-down service might also include putting a pair of slippers (shoes worn only indoors to keep one's feet warm) next to the bed and a mint (a candy that freshens one's breath) on the pillow.
The turn-down service could also include dimming the lights (making the lights less bright) and turning on quiet, relaxing music.
Housekeeping can also supply (provide) a cot (a folding bed) or a rollaway bed (a bed that can be moved easily because it is on wheels). Guests might request these types of beds when many people are staying in the room.
It is not unusual to request a cot for a young child, for example.
Some hotels pride themselves on (take pride in; take great interest in) little details, like folding hand towels (towels used to dry one's hands) into special shapes, making them look like birds or flowers.
Housekeeping might also fold the end of a toilet paper roll so that it ends in a point (a sharp edge) rather than a straight line.
If your hotel does most of these things, you're staying in a nice hotel!
Also in nice hotels, it is customary (normal; expected) to tip (give extra money to) the housekeeping staff members who provide all these services.
A typical (usual; common) tip is between $1 and $5 each day, depending on the type of hotel and the amount of service housekeeping provides.
Of course, if you stay in a cheap (inexpensive) hotel, you won't get most of these things. As we sometimes say, "you get what you pay for!"
~Jeff
Want to comment on this blog post? You can now do that on our Facebook page – click here to comment on this post!
WAIT!


Before You Go . . .
Get our FREE, 9-Page Special Report
"5 Things You MUST Know to Improve Your English"
Learn how to improve your English faster than ever with the latest, research-proven methods. Download it to find out more!
Just fill out your first name and email address below to get it: