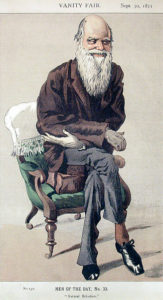 The Darwin Award is an honor (award or prize) that is given as a joke to people who have done stupid things to hurt themselves badly or even to kill themselves. It is given out each year.
The "award" was actually started by different people on the Internet. There is no official organization that gives out this award. One of the most well known lists, however, can be found at here.
This award is of course named after Charles Darwin (1809–1882), who is best known for his theories (general principles to explain something) on evolution, or how different forms of life have changed or "evolved" over their long history on Earth.
One idea that came out of Darwin's theories is often called "survival of the fittest," which is the concept that the strongest and smartest people survive (stay alive), and the weakest and dumbest do not. As a result, the weakest people do not pass on their genes (genetic material; the characteristics that a person passes onto his or her children) to future generations.
This award is a tongue-in-cheek (not serious) prize for the people each year who have done the stupidest thing to kill themselves or to hurt themselves so that they can no longer have children.
For example, in 1996, the winners included a man who wanted to prove how brave and strong he was by cutting off his own head! In 2000, one of the winners shot himself with his own gun while teaching his wife about gun safety. In 2005, two men who had been drinking alcohol made a bet while standing on an overpass (road or bridge over a freeway). They wanted to know who was strongest. They decided that the winner would be the person who could dangle (hang by their arms) over the freeway the longest. The winner was too tired to climb back up and was killed when he fell.
And with the help of current technology, in 2014, two men tried to take selfies (photos taken of yourself, while operating your own smartphone/camera) with an elephant. The two men were actually touching the elephant's face when the elephant got angry and trampled (walked on and crushed) them both.
No one is certain why most of the winners have been men.
ESLPod Team
Image Credit: From Wikipedia
* This post was adapted from "What Insiders Know" from Cultural English 72. To see the rest of the Learning Guide, including a Glossary, Sample Sentences, Comprehension Questions, a Complete Transcript of the entire lesson and more, become a Select English Member.