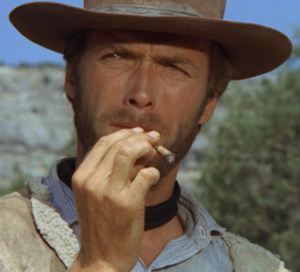 It's summertime! Lots of students on summer vacation are flocking to (going to in large numbers) movie theaters.
Students today may be surprised to learn how popular Westerns were before the 1970s. They may be more surprised to learn that some of the most famous classic (well-known and respected) Westerns weren't even filmed in the U.S.
A Western is a movie about the Western part of the United States during the 1800s, when there were a lot of cowboys (men who ride horses and move cattle (cows) from one place to another), Indians (now called "Native Americans" or "American Indians"), and ranchers (people who owned many cattle).
Even though Westerns were about the American West, in the 1960s, many Western films were made by Italian studios (companies that make movies). These Italian Westerns are known by the nickname (informal name) "Spaghetti Westerns." (Spaghetti is a common, long type of noodle or pasta from Italy.)
Many Spaghetti Westerns were filmed (recorded) in the Spanish desert (a hot, dry, sandy area) because it looked similar to parts of the American West. Also, because Spaniards spoke Spanish, it was easy to find Spanish-speaking actors to act as Mexicans, usually fighting against the American cowboys.
Spaghetti Westerns were very violent, with a lot of fighting. They were also filmed in a minimalist (simple) style, and many people did not like these movies for that reason. But in the 1980s people began to appreciate (see as being good or worthwhile) Spaghetti Westerns because they realized how influential (having a lot of impact) they were in shaping (causing to change) Americans' views of the American West.
Three of the most famous Spaghetti Westerns are those in the trilogy (a series of three related movies) called "Man With No Name," directed by the Italian director Sergio Leone. Before Clint Eastwood became an Academy Award winning director, he was a very popular star (main character) in 1960s Westerns, including in this trilogy.
The three movies in the trilogy are "A Fistful of Dollars," "For a Few Dollars More," and "The Good, the Bad and the Ugly." The third movie — "The Good, the Bad, and the Ugly" — is probably still one of the most famous Westerns ever made.
~ ESLPod Team
Photo Credit: from Wikipedia
* This post was adapted from "What Insiders Know" from Cultural English 80. To see the rest of the Learning Guide, including a Glossary, Sample Sentences, Comprehension Questions, a Complete Transcript of the entire lesson and more, become a Select English Member.