A few weeks ago (in late May), I got a chance to visit a place I've wanted to go to for a long time: the Anasazi cliff dwellings. The Anasazi were a Native American tribe (group; people) that lived in the Southwestern part of present-day (what is now) United States in about 1100 A.D. A cliff is the very steep side of a mountain, and a dwelling is a home.
In the southwestern corner of Colorado is Mesa Verde National Park. A national park is a place of natural beauty or importance that is protected by the United States federal (national) government. Mesa Verde is where you will find some of the best preserved (protected from damage) cliff dwellings dating back to the (from the years) 1100 and 1200s A.D.
Nobody knows for sure why, but in the 1190s, the Anasazi, who had lived on the top of the mesa (mountain with a flat top) up to this time, moved to new dwellings they built underneath (below) the hanging cliffs (part of the cliff without supporting rock underneath).
Some of the structures were small and had only one room, probably used for storage (keeping things for later use). Others were as large as 150 rooms, large enough for an entire village (community of people living together). While the Anasazi continued to farm above, they lived below. One theory (guess based on the available evidence) is that they were protecting themselves from other hostile (unfriendly; wanting to harm them) groups.
Again, no one knows why, but by the late 1270s, the Anasazi started moving south. They are the ancestors (people who came before) of the Pueblo Native Americans in New Mexico and Arizona today. By 1300, a little more than 100 years after they were built, the Anasazi cliff dwellings had been abandoned (with no one living there anymore).
I was able to go on a tour of one of these cliff dwellings. To reach the dwelling, we had to climb down a tall ladder (see below), crawl (move on hands and knees) through holes in the rock, and scramble (move quickly over rough ground) over the side of the mountain. It was not as strenuous (requiring a lot of physical effort) as it sounds and quite safe, of course. I am not Tom Cruise!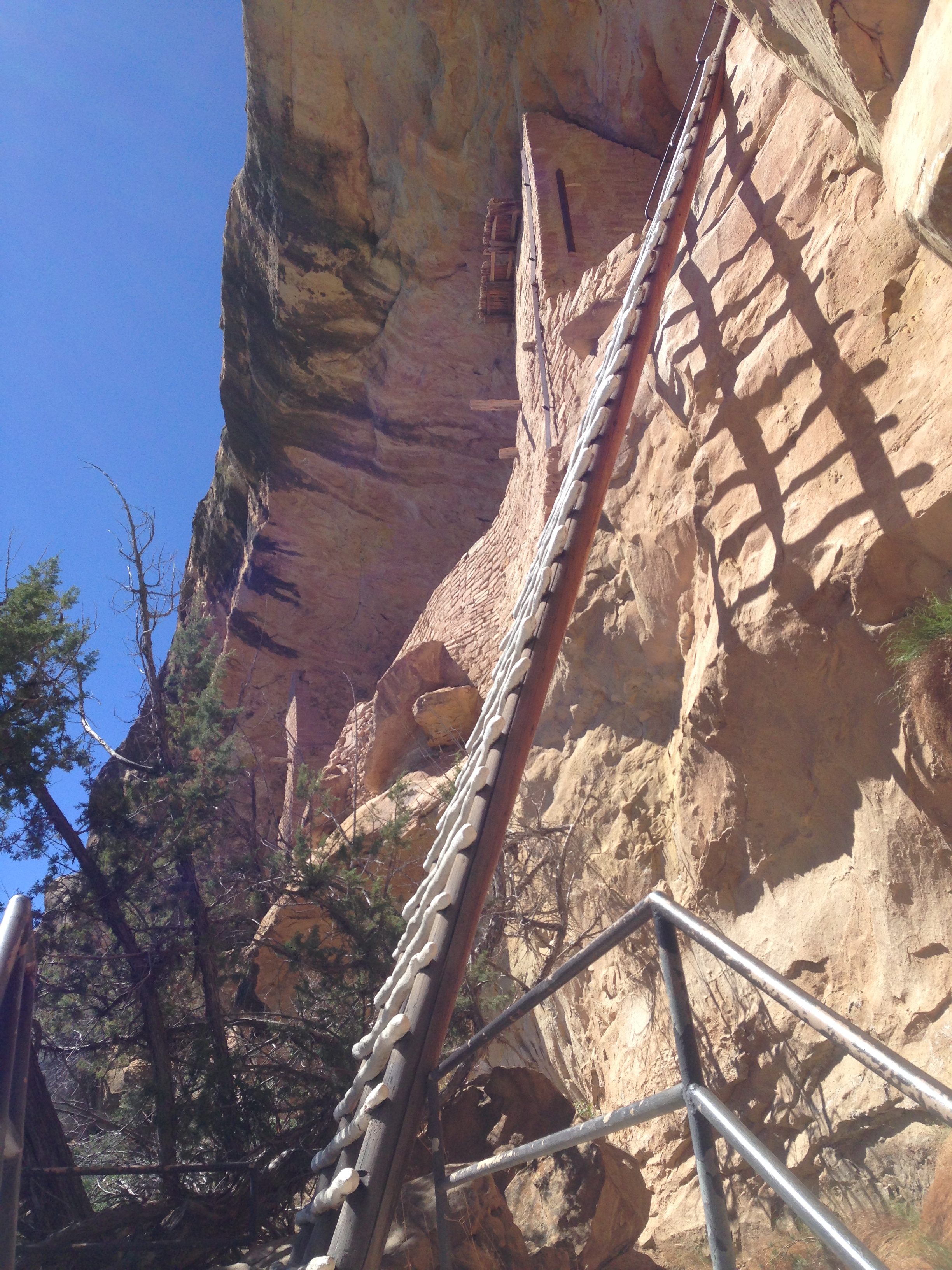 Here are a couple of the photos I took of the "Balcony House," one of several dwellings that visitors can tour. (A balcony is a place you can step out onto on the outside of a house, and this dwelling was called the "Balcony House" because it had a rock formation (rock structure) shaped like a balcony.)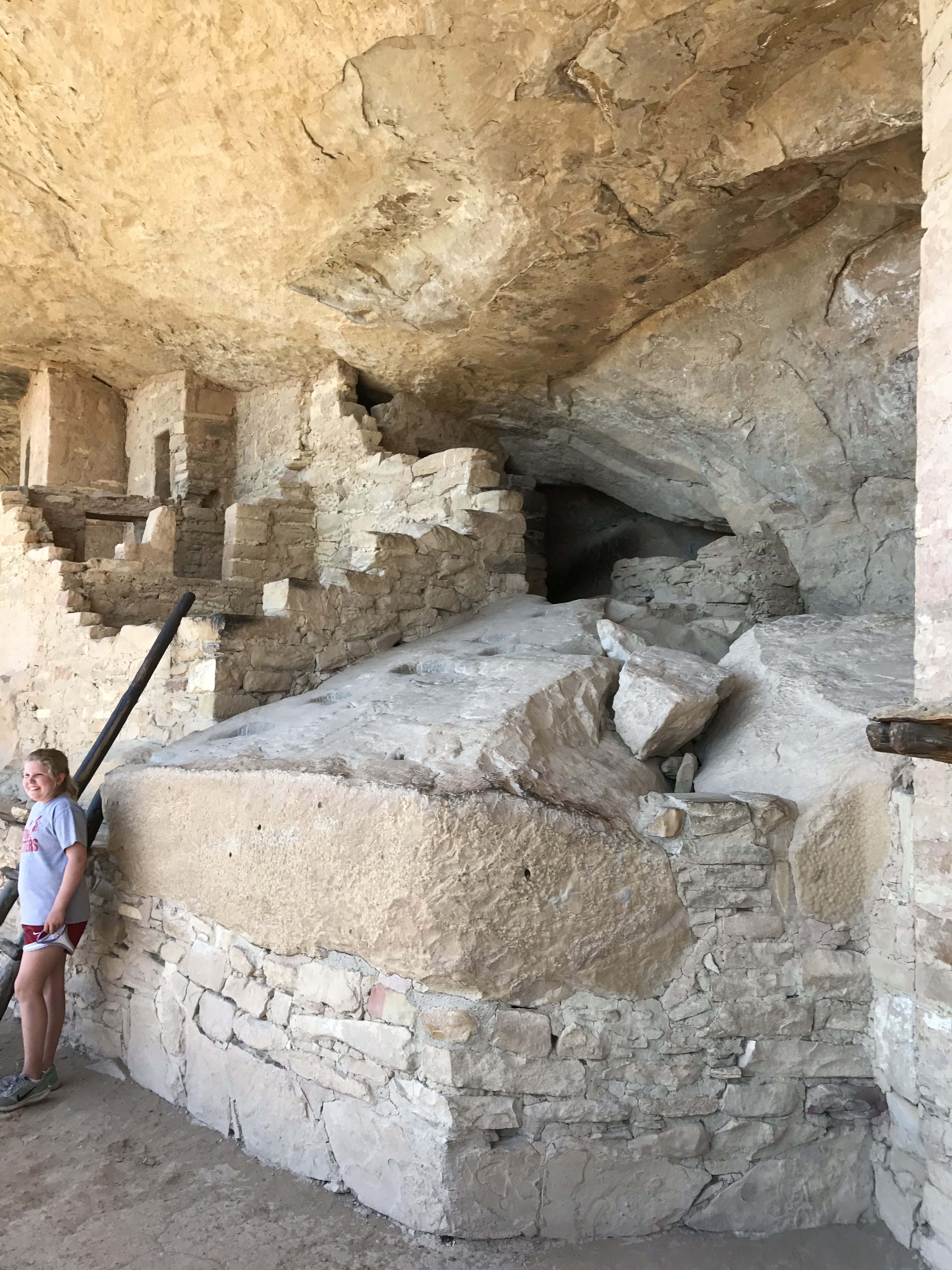 Below is a photo of the "Cliff Palace." A palace is a very large home where rich or important people live, such as kings or queens. I couldn't tour this dwelling because it wasn't open for tours yet.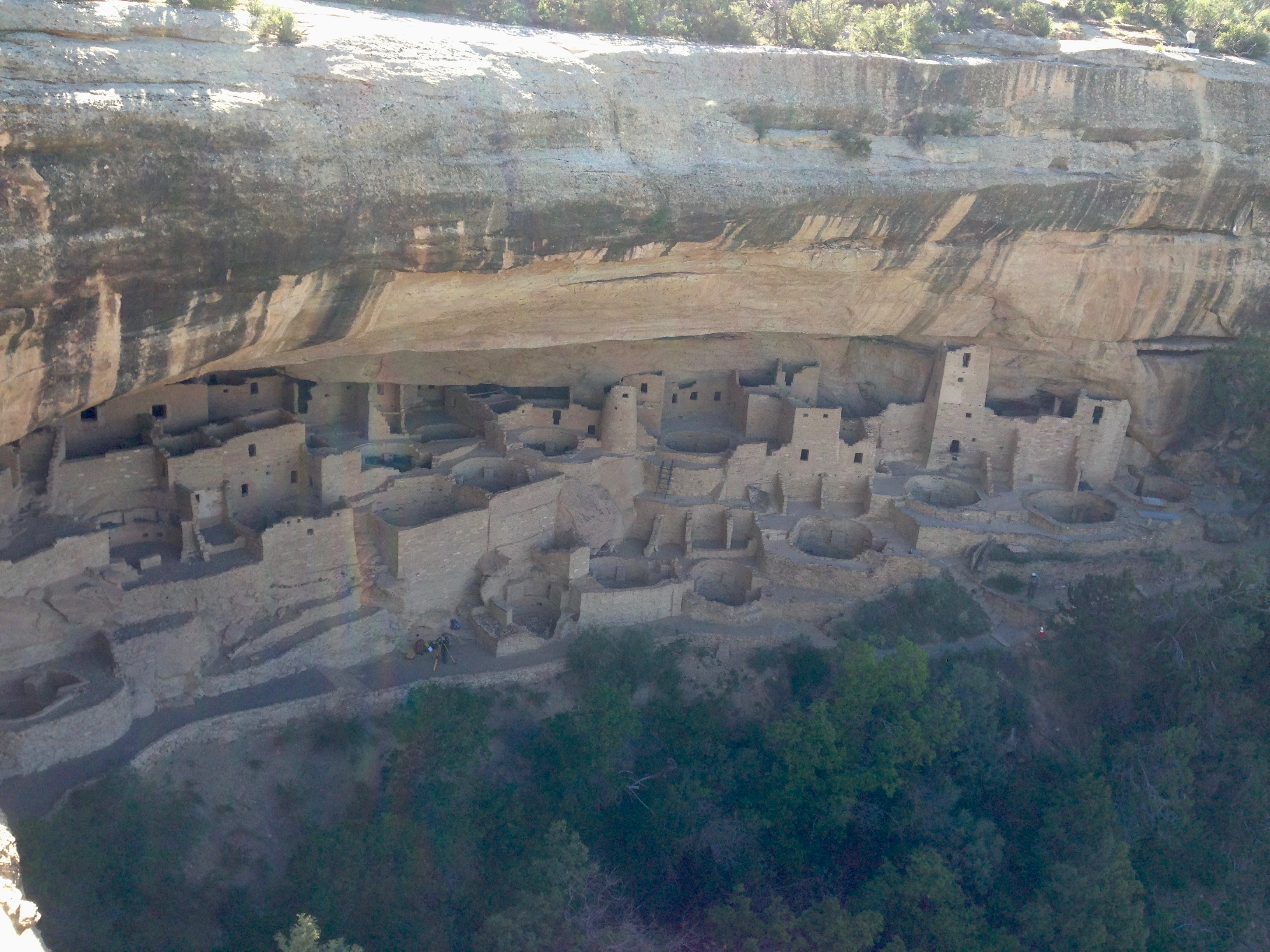 Finally, can you see the windows in this photo? There are dwellings behind them. This gives you an idea of the scale (size compared to other things) of these dwellings and the surrounding cliffs.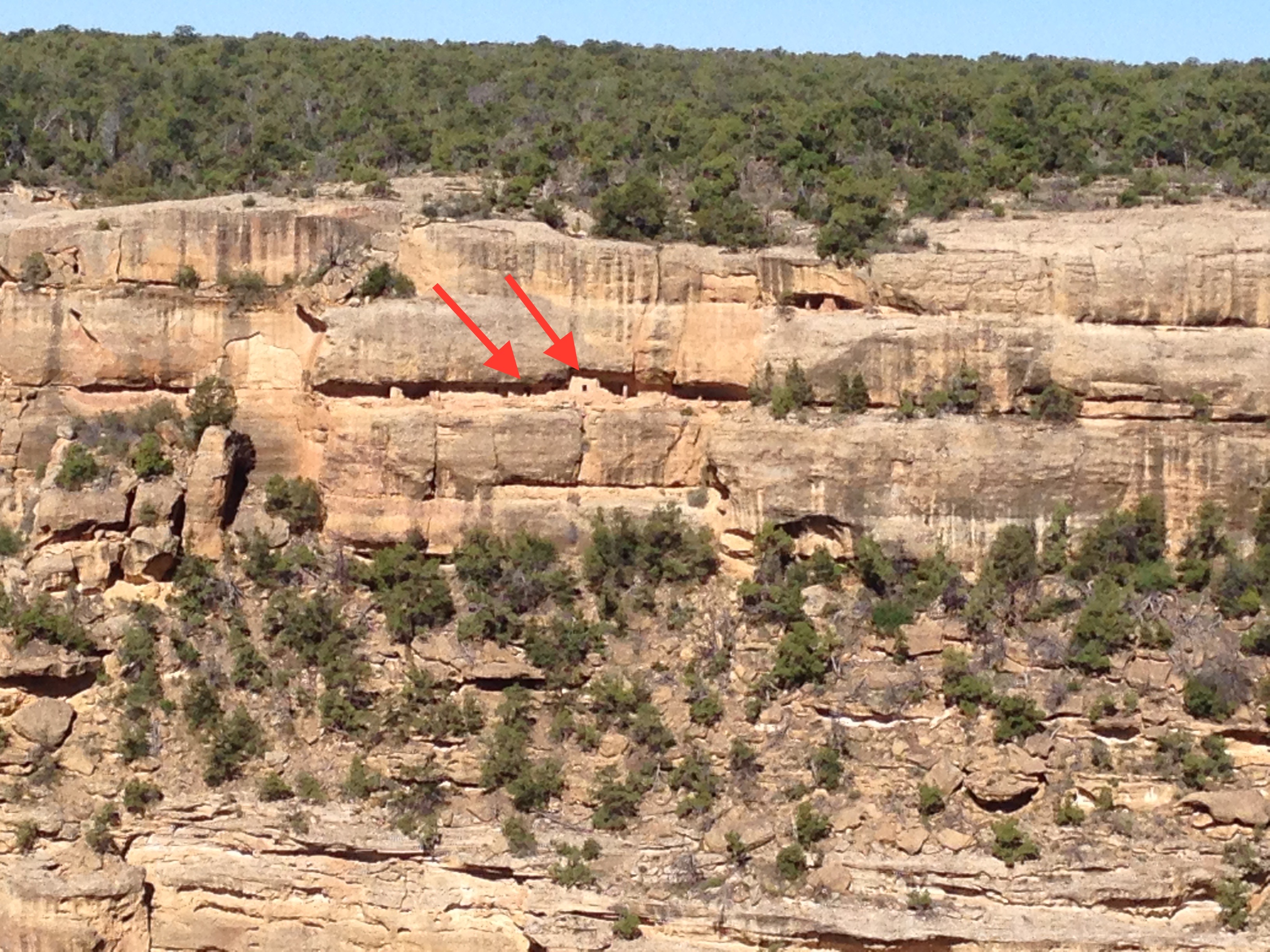 How did the Anasazi reach these dwellings? The best guess (belief based on little or limited evidence) is that they used ropes (long pieces of strong fabric) and were excellent rock climbers, perhaps using only their hands and feet to climb up and down.
If you ever get a chance to visit Mesa Verde National Park, I highly recommend it. But be sure to get your tour tickets a few days early. There are always more people who want to take tours then there are tickets.
~ Lucy
Photo Credit: Lucy Tse