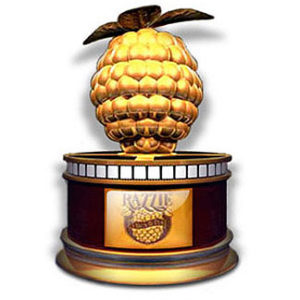 The Academy Awards (also called simply "the Oscars") are here again. This Sunday, February 26th, the Academy Awards will be given out (distributed) honoring (recognizing and celebrating) the best films of 2016.
Most people have heard of the Academy Awards, considered the most prestigious (respected) award a movie can receive in the United States. But do you know that there are also awards for the worst movies of the year?
Let me introduce you to the Razzies.
In 1980, a new set of awards was created called The Golden Raspberry Awards, commonly called "the Razzies." These awards honor a completely different type of film: the movies from the past year that were absolutely terrible.
Why are they called the "Golden Raspberry" awards? A raspberry is a type of red fruit, but the name of the award is referring to "blowing a raspberry," which is when you put your tongue between your lips and blow out air, making a noise that sounds like a fart or flatulence (gas coming out of the rear or bottom of your body). Blowing a raspberry is a (not very nice) way to show that you do not like something or that you feel that something is silly or ridiculous.
Nominations (proposing someone or something for an award) for the Golden Raspberry Awards are announced one day before the Academy Award nominations, and the awards are presented one day before the Academy Awards are given out.
In addition to the categories of awards that you might expect—such as Worst Actor, Worst Picture (film), and Worst Director—Razzies are also given out for things like the "Worst Screen Couple" to two people who are romantically involved in a film.
Another Razzie given out each year is the Worst Prequel, Remake, Rip-off or Sequel. A prequel is a movie that occurs in time before another film that has already been made, giving the background or early story of the same characters. A sequel is a movie that occurs in time after another film that has already been made, telling the story of what happened after the first film ended. A remake is a modern version of an older film. A rip-off is an inferior (worse or lower quality) version of something, taking important parts of the original without giving it credit (saying where it came from).
The Razzies are given out tongue in cheek (as a joke) and are not taken seriously. Most people do not go to the award ceremony to receive the award. However, a few celebrities, such as Hale Berry and Sandra Bullock, both winning for Worst Actress, have done so to show that they have a sense of humor (ability to appreciate a joke).
Since there are more bad movies than good ones each year, in a way it is much harder (more difficulty) to win a Razzie than an Oscar.  There's so much competition!
What are some of the worst movies you've seen that you think should get a Razzie this year?
~ Jeff
* This post was adapted from "What Insiders Know" from Cultural English 209. To see the rest of the Learning Guide, including a Glossary, Sample Sentences, Comprehension Questions, a Complete Transcript of the entire lesson and more, become a Select English Member.