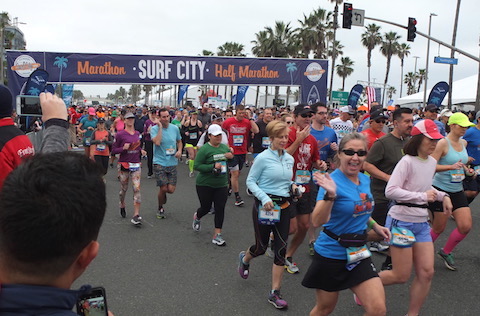 Sunday began gray in Huntington Beach, a popular southern California beach city. And cool, almost cold.
Surfers were out early, trying the larger waves brought by recent storms. Seagulls circled above, as they do, looking for something to eat – fish, and if not fish, some small scrap (piece) of food dropped on sand or sidewalk. And screaming when they couldn't.
Then the runners began to arrive. Some crawled out of (got out of) cars at designated (specially marked) drop-off points. Some stepped down out of shuttle buses (buses that go back and forth between two places). Others wandered in (walked or traveled) from who knows where. They came from all 50 states of the U.S. and 17 foreign countries, more than 15,000 of them.
They gathered under a banner (sign) that read "Surf City Marathon/Half Marathon" stretched across (placed over) Pacific Coast Highway, Highway 1, that follows the coastline of California for more than 655 miles (1,054 km).
This was no Boston Marathon, or New York, or even Los Angeles. There were no elite (top; among the best) runners. But your cousin was there. And your friend from work. And the guy from down the street.
Some looked like runners. Others didn't, like the woman behind me who said, "I'm going to take it easy, then run like h*** for the last 5k (5,000 meters)." I'm not sure she could have run that hard for 500 or even 50.
When the time came, the runners started in waves (groups), fastest first. And in a few minutes, they disappeared down the road.
If you had wandered among the spectators waiting for the runners to return to the finish line, you would have discovered that this was more party than competition. An opportunity for family and friends to celebrate and cheer for Colin or Joe or Vanessa or whatever their names were.
There were balloons. Homemade signs. And a band, three old guys on the sidewalk, playing rock-and-roll favorites. They were good! Lines at coffee shops along PCH grew until they stretched out the doors and onto the sidewalks. With coffee in hand, people wandered around or found a place to sit and talk and wait.
After two or three hours, the runners began to return. They would do that for several hours more. And as they arrived, we began to hear their stories.
Dorothy says this will be her last half marathon. She walked, not ran, her first 25 years ago. She walked it again Sunday with her daughter, her granddaughter, and her great-granddaughter. The Orange County Register, a newspaper, reported that, for the last several years, Dorothy has written her age on the back of her t-shirt followed by "Come walk with me". This year the number was 90.
There was the story of the short brown rope. I saw, but didn't get the names of, two women running side-by-side as they neared the finish line, each holding one end of a short brown rope. When I looked a second time, I understood: one of them was blind. Her friend had run beside her the entire race, holding onto the rope so her blind friend could run free.
Adam's story started 11 years ago. That's when he was told that he would never walk again because of a car accident. Two years ago he walked for the first time since his accident, thanks to an exoskeleton – a science-fiction-like device that attaches to his legs and uses small motors to make it possible for him to walk. Even with help he can only walk half as fast as other people. But he walked the last three miles Sunday, part of the one-million steps he hopes to walk in races like this to raise money – $1 per step – so others who have suffered injuries like his can walk again, helped by similar technologies.
Ordinary people. Doing extraordinary things.
~ Warren Ediger – ESL coach/tutor and creator of the Successful English website.
Surf City Marathon/Half Marathon photo by W. Ediger.