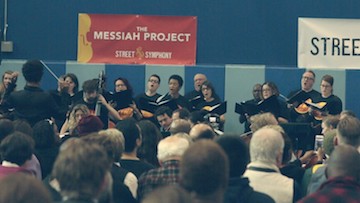 A Christmas tradition was born in Dublin, Ireland, almost 275 years ago.
On April 13, 1742, 700 people packed (sat very close to each other) into Fishamble Hall for a concert to raise (collect) money to help sick and poor people. The concert was a success – it raised 400 pounds sterling, a large amount of money. Mercer's Hospital and the Charitable Infirmary (a place to care for sick people) each received 127 pounds, and 142 people who were in prison because they couldn't pay their bills were released (allowed to leave).
The music that day was a new work (piece of music) by G. F. Handel, The Messiah, which tells the story of Jesus from the Bible. It was performed by a small orchestra and choir (group of singers) of singers from St. Patrick's and Christ Church cathedrals. The audience loved it. One person who was there wrote that it was impossible to find words to describe the delight (joy) of the audience.
Since its first performance, The Messiah's popularity has grown. It has become one of the world's most-loved pieces of music, especially at Christmas. In the U.S., it's difficult to be in a store or some other place where Christmas music is played without hearing music from The Messiah, especially one chorus (song for choir) called Hallelujah.
A recent performance of The Messiah reminded a Los Angeles Times writer so much of the first one that he called it "the most relevant (appropriate)" and "the most historically authentic (like the first)" that he had heard.
Many large cities have areas we call skid rows, run-down (in bad condition) parts of town where you'll find homeless people and others with difficult personal problems. Many sleep on the sidewalks. Some keep everything they own in a shopping cart.
Midnight Mission is a Los Angeles skid-row organization that tries to help the people who live there. They often sponsor (organize and present) music concerts for the people on skid row. This year their Christmas concert included parts of The Messiah. The orchestra was made up of professionals and music students; the choir included people who live on skid row.
Don Garza sang the opening (first) solo – Comfort ye, comfort ye, my people – a song of hope and peace. Garza is not a professional singer. He is a combat veteran (someone who fought in a war) who has lived on skid row for many years. His life has been hard. And yet he sang this song with confidence and joy. When he finished, the audience applauded (clapped their hands), shouted, and many wiped tears from their eyes.
The greatest for the least (people not usually considered important). Then and now.
This year, once again, The Messiah will be performed around the world in concert halls (my favorite recording) by professionals, in churches by people who simply love to sing, and even in shopping centers by flash mobs (groups that suddenly appear). If you've never heard The Messiah before, take a few minutes to discover the joy that so many others experience this time of the year.
Merry Christmas and a Happy New Year to all of you!
~ Warren Ediger – ESL coach/tutor and creator of the Successful English website; he's sung The Messiah more times than he can remember and also conducted it.
Parts of this post were adapted from the Los Angeles Times.
Photo credit: LA Weekly