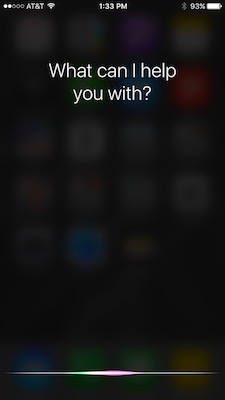 I was talking to a student recently – on Skype – when I was interrupted by a woman's voice:
"I'm sorry, Warren, I didn't get that."
The voice came from my iPad, which was sitting on my desk. I had said something that woke up Siri, she hadn't understood what I said, and she was letting me know so I could repeat it.
Siri, if you don't already know about her, is a computer program that acts as a personal assistant (helper) to people using iPhones, iPads, and Mac computers. Siri can do a variety of tasks (jobs) that begin when the user asks her a question or gives her a command (tells her what to do). She can understand what you say, she knows where you are, and she can search the Internet for information she needs to answer your question.
Siri adapts (changes in a helpful way) to the way you speak and how you use English. The more you use her, the more she learns about you, and the more her answers fit you and your situation.
Recently, Susan Bennett, the original Siri voice, explained how Siri's voice works and why it sounds so life-like. Bennett is a voice actor. She does commercials (advertisements for radio and TV), sings, and provides voices for other companies and public address services, like the announcements you hear when you walk through an airport.
Siri needs to be able to say almost anything. When she answers your question, the powerful computer program that makes her possible quickly builds words and sentences from a large collection of individual sounds. That means that Bennett, and others like her, must record every possible sound of every letter and combination of letters in English.
You can imagine how difficult that might be. How many "s" sounds are there in English? A lot. For example, the "s" sounds in "hiss," "snakes," and "rose" are different. Even short words have many individual sounds: "teeth" has "t", "ee", "th"; "lips" has "l", "ih", "p", "s". Imagine all the sounds that must be chosen and combined (put together) to make all the possible sentences that Siri might need!
To get all the sounds into the computer memory, Bennett records nonsense (without meaning) phrases (groups of words), like "oil your mills jewel weed today." Bennett did this for four hours a day, five days a week for one month when Siri was first created.
Siri can do a lot, but if you ask a question she doesn't understand or can't find the information for, she'll tell you so you can repeat what you said or ask your question differently. Sometimes she'll just give you a funny answer. I remember one of the first times I tried to use Siri. I had taken the metro light rail (small train-like system) to meet someone for lunch at a restaurant named "Father's Office." When I got off the metro, I didn't know where to go, so I asked Siri, "Where is Father's Office?" Her reply – "I'm sorry, Warren, I don't know your father."
Today, while I was finishing this post, I tried again. I asked Siri to "give me directions to Father's Office." This time she gave me two choices and asked me to tell her which one I wanted to go to.
She's learning.
~ Warren Ediger – ESL coach/tutor and creator of the Successful English website.
Photo by W. Ediger