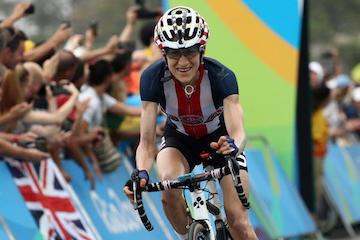 Mara Abbott could see it.
The finish line. Her life dream. An Olympic victory. A gold medal.
Two hundred meters more and her dream would come true. Two hundred meters more and the Olympic gold medal would be hers.
Unlike many others, Abbott had survived the Rio Olympic cycling (bicycle riding) road race course (streets used for the race).
The course was one of the most difficult ever. A smooth, fast ride along Rio's famous beaches took the riders to a series of small hills connected by cobblestone- (small round stones) covered roads so rough that riders' water bottles flew out of the holders on their bikes. A return ride along Rio's beaches took the riders to the big mountains, leg-killing ascents (going up) that took riders into the cloud-filled skies followed by dangerous, high-speed descents (going down) with turns that could easily throw a rider off the mountain. Riders who made it up and over the mountains had only a few fast, smooth kilometers to the finish line.
The course was perfect for Abbot. She is not a big, strong rider. She can't ride as fast as many others. But she can climb. She may be one of the best climbers in the world of women's cycling. And she had counted (depended) on her climbing ability to help her win Olympic gold. She believed that she had a good chance (possibility) to win if she were leading (in first place) at the top of the last mountain.
And she was. But shortly after beginning her final descent, another rider passed her and disappeared down the road.
Abbot descended as fast as she dared (felt she could safely ride). A few minutes later, while making a high-speed turn, Abbott saw the other rider on the ground at the side of the road. She had turned too fast, lost control of her bicycle, and crashed, breaking several bones in her back.
Abbot was in the lead again, alone. Her nearest competitors (other riders in the race) were 45 seconds behind her. She safely finished the descent and turned onto the final few kilometers of smooth road. The finish line, and her dream of Olympic gold, was in front of her.
As one writer wrote, "In cycling, one is often a condemned (impossible to succeed) number." One rider cannot ride as fast as several riders working together. When several work together, one and then another pull (ride in front) and the others follow closely, hiding from the wind. It's called drafting.
The three riders following Abbott began closing the gap (distance between) – 30 seconds . . . then 20  . . . 10. Abbott rode as fast as she could – riders call it "turning yourself inside out." But the other three riders kept gaining (getting closer).
With 200 meters to go, the other three riders swept (went quickly) past and finished 1-2-3. Gold. Silver. Bronze.
Abbott finished fourth. No medal. Just a broken dream.
Abbott was heart-broken (very sad). But I was impressed by what she wrote a few days later:
"Would you rather have some excuse (reason to lose) . . . sick last week, got a flat tire . . .? Or, would you rather honestly know you had ridden a race to the very best of your strength and ability, know that there was nothing else you could have done and have that be . . . not . . . quite  . . .  enough?
Here is what actually matters more than a medal: ". . . creating a performance that was truly your best."
~ Warren Ediger – ESL coach/tutor and creator of the Successful English website.
Photo of Mara Abbott from the Los Angeles Times