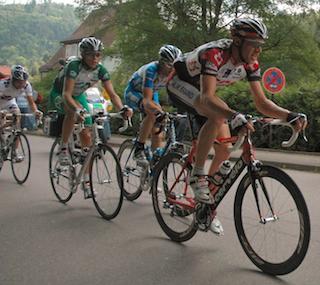 A few weeks, a tired bike rider pulled alongside (close by) me and said, "Thanks, man. I'm not sure I could have made it without your help."
He and I had been riding into a strong wind coming from the ocean. He had been struggling (having great difficulty) in the wind and was riding very slowly. But when I passed (went around) him, he was able to move in close behind me and begin drafting (following close so I could protect him from the wind). For the next two or three miles I pulled (rode in front) and he drafted. Together we made it.
Bike riders draft whenever we can. It saves energy and helps us ride faster and farther than we could by ourselves. And when we draft behind a better rider, we often discover that we can ride faster and farther than we had before or thought we could.
Drafting works in life, too. There are people who "pull" us along – encourage, inspire (make us confident and eager to do something), and help us accomplish things that we had never thought possible.
Jens Voigt has done that for many people. Jens, who comes from Germany, was a professional bicycle rider for 17 years. He spent a lot of time in the U.S. training (preparing) and racing with the team sponsored (supported financially) by Trek, an American bicycle company. To honor (show appreciation to) his many American fans, he made the U.S. Pro Challenge in Colorado two weeks ago the last race of his long career.
Fans love Jens for his aggressive (ready to attack) riding and his friendly and funny way with people. He would tell you that he's just a common, everyday guy who works hard at what he does. But when you watch him and listen to him, you soon discover the personality (the kind of person he is) and practical way of looking at life that have inspired and encouraged so many people. Let me give you some examples.
Jens is one of the best all-around (having many abilities) riders and a valuable team member. He says "I'm not a sprinter. I'm not a time-trialer. I'm not a climber. But what I can do is pedal for a long time. I'd rather be a sprinter. But it wasn't given to me. I've got to work with what I have."
You would frequently find Jens in a breakaway – one rider or a small group of riders who breaks away from (suddenly moves ahead of) the peloton, the main group of riders. Riders who break away don't often win, but Jens says that trying is what's important. "If you go [with a breakaway], you can win or not win. If you don't go for it (try), you definitely won't win."
Riding alone on a breakaway is one of the most difficult things a rider can do. It demands (requires) extraordinary (more than usual) physical and mental strength. Jens has the determination (mental strength), and when his body begs him to stop, he replies – using his most famous words – "Shut up legs! Shut up body! Do what I tell you!"
If you'd like to get a brief taste of Jens, listen to this short interview before his last race at the U.S. Pro Challenge in Colorado.
~ Warren Ediger – ESL coach/tutor and creator of the Successful English web site.
Photo courtesy of Wikipedia Commons.