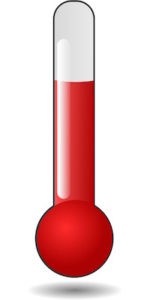 Summer is winding down (coming to an end) in the U.S., and Matt Pace is probably glad to see it end.
Pace is the weatherman for a TV station in Phoenix, Arizona. And in a recent interview, he said that he has a problem: finding different ways to describe how hot it is in Phoenix every day.
Phoenix is the hottest city in the U.S. It is hotter than 90 degrees F (32° C) almost 170 days every year. In July the average temperature is 106° (41° C); in August it's 104° (40° C). In 1990, Phoenix experienced the hottest temperature ever recorded (measured and written down) in a U.S. city – 122 degrees F (50° C).
When Pace was asked about his dilemma (problem), he said, "I go, 'It's hot,' or, 'It's above average,' or, 'It's going to be extremely warm today.'" He continued, "There's always, 'It's really hot out there,' or, 'It's hot, hot, hot,' or just, 'Triple (3x) hot!'" One day this summer, Pace asked his Twitter followers: "Tired of hearing us say 'It's hot?' Me too…so what are other ways we can say 'It's hot'."
There are a number of different ways to describe hot days – to avoid saying "very, very, very hot," and to make your description more interesting and informative.  Here are some that I thought of:
blazing | a blaze is a bright, hot fire | a blazing August afternoon
roasting | to roast something is to cook it in an oven or over a fire | a roasting hot day, or, I'm roasting in this coat.
scorching, scorched | to scorch is to burn the surface of something; when you scorch fabric, it usually turns brown | the scorching July sun; the desolate (empty), scorched landscape (area of land, usually with grass and other plants)
searing | to sear something, like meat, is to burn it quickly with a sudden powerful heat | the searing heat of the desert
sizzling | sizzling is the sound when you drop water on a very hot surface and drops of water "dance" on the surface | a sizzling afternoon
stifling | so hot that it's difficult to breath | It's stifling outside today; The stifling heat made it difficult to be outside yesterday.
sweltering | uncomfortably hot; so hot that you feel weak (less strong) | the sweltering afternoon heat
sultry or muggy | hot and the air feels humid (wet) | It will be sultry (or muggy) today.
unbearably hot | so hot it's almost painful; you can't bear it (take it) | It was unbearably hot yesterday.
Another possibility is to compare the heat to something that people might be familiar with, for example: Stepping outside today is like stepping into a blast furnace – a blast furnace is a very hot furnace used to melt metals (make them liquid).
Can you think of other ways to say "it's hot" in polite conversation?
~ Warren Ediger – ESL coach/tutor and creator of the Successful English website.
The photo of the thermometer is in the public domain.