*Put another nickel in
In the nickelodeon
All I want is having you
And music, music, music
That song, Music, Music, Music by Teresa Brewer, became a #1 hit in 1950 and sold more than one million records. I thought of it recently when I walked past a nearby Rocky Cola restaurant, a throwback (something similar to something that existed in the past) to the restaurants of the 1950s, and saw the jukebox inside.
When I was in high school, if you and your friends wanted to listen to popular music you often went to your favorite cafe (small restaurant that served light meals and drinks) and listened to it on a jukebox, a coin-operated machines for playing music. Teenagers spent many hours sitting in cafes, drinking Cokes or milkshakes (a drink made out of milk and ice cream), and listening to their favorite music. Just like in the television program Happy Days.
Jukeboxes were large, brightly decorated music-players (photo 1). Each one held a number of plastic records (circular discs for storing music) and a device for selecting and playing them.
Most records held one song. To play a song, you put a nickel (five-cent coin) into the jukebox, found the song number on a list of song titles, pressed the buttons on the jukebox for the song – a letter and a number, like D3 – and the jukebox found the record with your song and played it.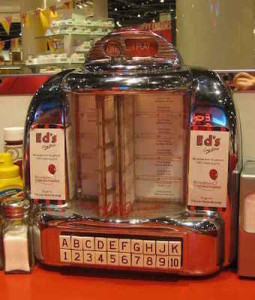 In some cafes, a special extension of (addition to) the jukebox (photo 2) made it possible for you to choose the music you wanted from your table or at the counter (long flat area for serving food) you sat at to eat.
Thomas Edison, who invented the light bulb, also invented the first technology for recording music and other sounds. But it was Louis Glass, a San Francisco bar owner described as a "wild-haired inventor," who created the first jukebox in 1889. It used Edison's technology for playing a recording and required a nickel to play one song. Rather than the high-quality speakers of later jukeboxes, Glass's customers had to use listening tubes, similar to a doctor's stethoscope (instrument for listening to a patient's heart or breathing), attached to the jukebox. Only four people could listen at the same time.
The popularity of jukeboxes grew during the early part of the 20th century and was greatest from the 1940s through the mid-1960s. Thousands of them were made by companies like Wurlitzer and Seeburg. In the 1940s, 75% of the records produced in the U.S. went into jukeboxes.
Only two companies – one in the U.S. and the other in the U.K. – make jukeboxes today, mostly for throwback restaurants like Rocky Cola. If you'd like to learn more about jukeboxes, check out How the Jukebox Got Its Groove.
* A nickel is a five-cent coin; a nickelodeon is a coin-operated piano or jukebox, the topic of the blog post.
~ Warren Ediger – ESL coach/tutor and creator of the Successful English website.
Photos courtesy of Wikipedia Commons and Dave's Computer Tips.