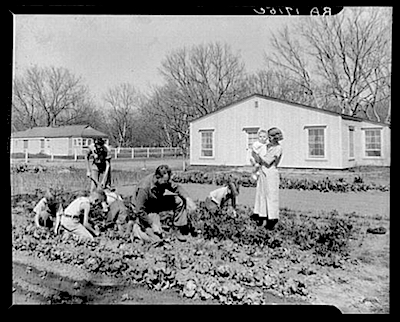 What words come to your mind when someone says, "Los Angeles"?
Were "farms" or "farming" on your list? Farms are where farming – growing crops (plants grown for food) or livestock (cows or other animals) – is done.
If not, don't feel bad. Probably not many people think about farms or farming when they think about Los Angeles today. One hundred years ago it was different. From the early 1900s until the 1950s, farms and farming were an important part of life in Los Angeles County – the city of Los Angeles and the area around it. And Los Angeles County produced more food products than any other county in the U.S.
A new book – From Cows to Concrete (mixture of water, sand, and cement used to build things): The Rise and Fall of Farming in Los Angeles – written by Rachel Surls and Judith Gerber tells the not-well-known story of farming in Los Angeles. I think it's worth sharing (telling about).
The story begins many years ago, when California still belonged to Spain. Spanish settlers (people who moved here to live) discovered that the area around Los Angeles was a good place for growing things and established (started, created) Los Angeles as a food center for southern and central California. Even before that, the people who lived here harvested (gathered) crops that grew here naturally.
In the 1800s Los Angeles was California's "first wine country," long before Napa and Sonoma Valleys north of San Francisco became well-known for their vineyards (where grapes are grown) and wineries (where wine is made from grapes).
Citrus fruit – like lemons and oranges – quickly became one of the main crops in the Los Angeles area, and by the early 20th century, much of Southern California was full of citrus and other fruit trees. Farmers also grew vegetables – like cauliflower, celery, and tomatoes – berries, and even flowers. Immigrants from Holland raised milk cows and built dairies (places where milk is collected and milk products made). And keeping bees for honey was popular.
The growth of farming in the early 1900s was stimulated (helped) when people were encouraged to create neighborhoods where "small farm homes" were built on 1-3 acres (.4-1.2 hectares) of land so the homeowners could grow crops to eat and sell. During the Great Depression, the government helped people who moved to California to start some of these small neighborhood farms.
The number of these small farms grew from about 1,300 in the 1920s to 5,000 in the 1930s. In the early 1950s, there were 10,000 of these small farms in Los Angeles County. In 1940 the Los Angeles Chamber of Commerce (organization that encourages business) claimed that nearly half of the food Los Angeles ate came from farms within 50 miles (~80 km) of the city.
After World War II, many people moved to Los Angeles for jobs in aircraft and other new industries. Soon schools, shopping centers, streets, and freeways replaced most of the neighborhood farms. Most of them are gone today, but you can still find a few if you look in the right places.
~ Warren Ediger – ESL coach/tutor and creator of the Successful English website.
Photo from UC Division of Agriculture and Natural Resources.