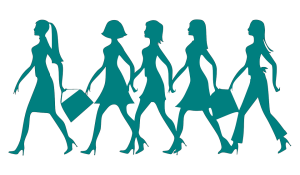 We recently received a question from Victoria living here in the U.S., in New Jersey, who wants to know how to tell a man to stop bothering (annoying; troubling) her. She wants to know what she can say to him to make him stop or go away.
I'm not sure what kind of unwanted attention Victoria is getting, so I'll try to cover (address; discuss) a few different scenarios (situations).
A common type of unwanted attention that people get, especially women, is verbal (spoken). For example, sometimes women are shouted at or called out to (spoken to in order to get one's attention) by groups of men, something called a catcall. Several websites giving women advice on how to deal with this situation give common sense (general understanding that most people have) suggestions: avoid eye contact (looking into another person's eyes); walk with purpose (quickly and with a clear destination (place to go)); and ignore (don't show awareness of) these shouted comments. One site suggested shutting down (ending an interaction or conversation) someone by not laughing at his jokes, responding in any way, or showing annoyance or anger. So in these cases, not saying anything in any language is probably the best move (action).
Another type of unwanted attention women get is physical (involving the body). For example, if you're on a crowded (with many people close together) train or bus, you may have someone stand too close to you or touch a part of your body. If that person is actually holding on to you, the most common thing to say to make them stop is, "Let go (of me)." If that person is simply too close to you, but not actually touching you, use the phrase, "Back off," which means "Move away so you're not so close."
We use "back off" in other circumstances, too, that don't involve physical closeness. For example, if you think a coworker is involving himself or herself in your work in a way that is not acceptable, you might tell them to "back off":  "I told James to back off when he tried to talk to my clients."  Or, "Anna's father tries to make her decisions for her and she is trying to find a way to tell him to back off without hurting their relationship."
Finally, if the unwanted attention is someone hitting on you (showing you in a obvious or direct way that he or she is attracted to you romantically or sexually), you can be very direct (clear and frank) by saying, "I'm not interested." But more commonly, women simply say, "I have a boyfriend" or "I'm in a relationship," although not everyone agrees that this is the best strategy (plan). However, this usually gets the message across (communicates) that you are not available (not single).
Well, Victoria, I hope I've given you a few ways to deal with the unwanted attention you've been getting. If any of you reading this have more suggestions that don't involve causing physical injury (hurting someone), please add them in the comments below.
~ Lucy
P.S. My sincere thanks to those who sent me birthday wishes here and on email. I appreciate the kind thoughts!