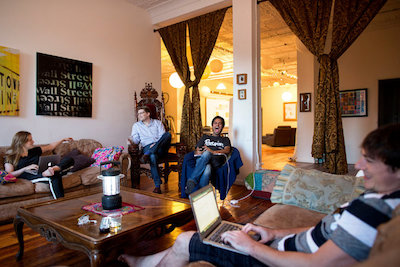 "Co-" is a prefix (a group of letters at the beginning of a word that makes a new word) that adds the idea of "together with" to the words it begins, words like "cooperate" and "coworker." Recently "co-" has taken on a new job – changing the way we think and talk about working and living.
Two new words – coworking and coliving – are quickly becoming part of the vocabulary used by many millennials (young adults under the age of 30) and others. You'll hear them most often in cities where there are a lot of startups (new businesses), especially startups that use technology in new ways.
Coworking, the older of the two ideas, describes a workspace that is shared by a group of people who usually work independently (by themselves) or remotely (away from the office). Workers rent and share office and meeting space and equipment and services, such as copiers and copying. For many, community building – getting to know other people, sharing ideas, and working together with them – is an important part of coworking.
Coliving is a newer idea. It extends (adds) the use of "co-" to living arrangements. The Coliving website describes coliving as shared housing and as a kind of life that values (makes something important) openness, sharing, and collaboration (working together). Building personal and business relationships is often an important part of coliving.
One way to think about the housing part of coliving is to imagine renting a hotel room or suite (a larger hotel room that includes a couch or comfortable chairs, a desk or table, and sometimes a small kitchen). In addition to your room, you share living, dining, and meeting rooms, a kitchen, and other rooms with the people who live in the same house or building.
Coliving is often more cost effective (good results without high cost) than renting or buying, especially in large cities like San Francisco, New York, or Boston, where there are a lot of startups. The service OpenDoor charges tenants (people who rent) $1,000 to $1,200 a month, depending on the room and the house. Another coliving company charges $1,500 to $2,200 a month, which includes everything you would find in a hotel room plus a well-supplied kitchen for everyone to use.
OpenDoor operates several coliving locations in California. In a recent interview, one of the owners said that they see themselves as more than landlords (some who owns and rents property). They work hard to maintain a family-like environment in their locations. Applicants (someone who wants to live at one of their locations) are asked what they could contribute to the house, what kind of environment they're looking for, and other questions to make sure they fit into the group of people who already live there.
What about where you live? Have you seen examples of coworking or coliving?
~ Warren Ediger – ESL coach/tutor and creator of the Successful English website.
Photo by Brian Harkin for the New York Times.