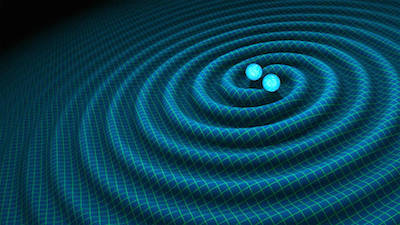 Albert Einstein was right. Again. But it took scientists more than 100 years to find the first evidence (facts to show something is true) that a prediction (to say that something will be true) he made in 1915 is correct.
To try to wrap our heads around (understand) what has happened, let's start with something we know: throwing rocks into a pond (small lake). When you throw a rock into a pond, it creates a circle of small waves in the water. As the circle expands (grows), the waves get smaller and smaller until they seem to disappear.
Waves explain the nature (what something is like) of many of the things we experience every day. Take sound as an example. If a tree falls down in a forest, why do we hear it? We hear it because when it hits the ground, it causes waves to move through the air that our ears hear as the sound of a tree hitting the ground.
Einstein believed that something similar happens in space. Gravity is the invisible (can't be seen) force that causes an apple to fall from a tree to the ground. There are large invisible places in space, called black holes, where the gravity is so strong that not even light can get out of them. Einstein believed that a large event – like two black holes coming together to make a new, larger black hole – would create a gravitational (adjective for gravity) wave that travels billions of miles across space.
There was one problem. The event Einstein had in mind (was thinking about) was so far away that the waves would be too small to measure – about 1,000 times smaller than the center of an atom – by the time they got to earth. And that is the problem that scientists have solved, 100 years after Einstein made his prediction.
To solve the problem, scientists made a measuring device, called LIGO, shaped like an "L". Both arms of the "L" were exactly the same length – about 2.5 miles (4 km) – and had mirrors at the ends. The scientists shined a line of light at the two mirrors, half of it at one mirror and half at the other, and measured how long it took the light to return from the mirrors. If Einstein was right, gravitational waves would cause one line of light to return to the starting point a very small time later than the other. And that's what happened.
There are many things to be impressed with in this story. Einstein, first of all, for his ability to think about and predict something like gravitational waves. The scientists for their ability to think of a way to measure the waves and to design and make the equipment to do it.
I'm also impressed with the patience (ability to keep working on something for a long time) of the scientists who worked on this project. They – helped by many assistants and graduate students – spent 40 years looking for, finding, and creating a way to measure the tiny waves of gravity that told them that Einstein was right. They were young men when they started. Today, one of the lead scientists is in his mid-70s, the second is in his early 80s, and the third is 85. I wonder how many people in today's world would be willing to work that long and that hard on a project that could have easily failed (not worked).
If you're interested in this topic, I think you'll enjoy these videos from MIT and the New York Times.
~ Warren Ediger – ESL/EFL coach and tutor and creator of the Successful English website.
Photo by Charly W. Karl used under Creative Commons license.